Swarovski Crystals
When it comes to Swarovski there is Swarovski Crystals is the premium brand for the finest crystal embellishments since 1895, from Austria. The company is recognized for innovation excellence. Swarovski collaborates with top-class designers and brands in the fashion, jewelry, accessories, interior design, and lighting industries globally. The company sets the standards for the crystal and rhinestone industries.
Available in a myriad of colors, effects, shapes, and sizes, Swarovski crystals offer a fabulous palette of inspirations. Swarovski crystals are produced according to the innovative, lead-free* "Advanced Crystal Standard. Born out of a passion for high-precision cutting and attention to detail, these crystals impart refined glamour to everything their embellish.
A family-owned company for over 120 years, with values rooted in integrity, respect and excellence, Swarovski is noted as much for its ethics in business as for its contemporary artistry and innovative flair.
Rhinestone Guy has been recognized by Swarovski as an Authorized Reseller. The "Swarovski Authorized Reseller" label is your assurance that you will find a larger assortment of Swarovski crystals and knowledgeable staff who can help with application techniques. If you don't see a product that you need please contact us to place a special order.
*Crystal Glass and all other materials containing 0.009% lead or less
---
Swarovski Flat Backs
Swarovski Flat Back include round shaped rhinestones from sizes 5ss to 48ss and smaller rhinestone shapes.
These are flat back non hot fix. They need to be either glued or set.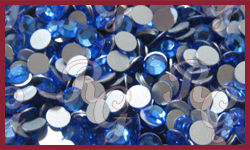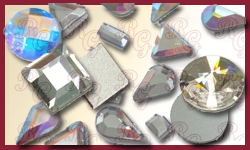 ---
Swarovski Hot Fix
Swarovski Hot include round rhinestone from sizes 6ss to 40ss and smaller rhinestone shapes.
These are flat back and hot fix, you need to use a heating tool to apply these, however, they can always be glued.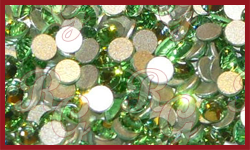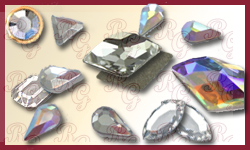 ---
Swarovski Sew On Jewels
Swarovski Sew On jewels bring larger flat Back Jewels and Mounted rhinestones and Fancy stones. There are designed to be attached by sewing the jewels onto the garments.
---
Swarovski Other
Pointed Back rhinestones are rhinestones that are mostly used in setting. Swarovski drops or pendants have a top hole (no foil) and are designed for hanging.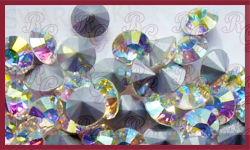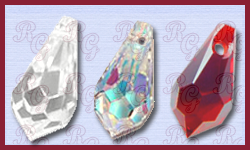 ---