Hot Fix Pearls are flat back with a domed shape featuring dimension and depth. They are available in four great colors: Natural Pearl, Blonde Pearl, Silver Pearl, and Hematite (almost black) pearl. We have them in a great selection of sizes.
Pearls are sized by mm. As a point of reference, 4mm pearl is close to a 16ss rhinestone, 5mm close to a 20ss rhinestone, and 6mm is close to a 30ss rhinestone.
Hot Fix Pearls can also be glued or mounted in the same way as Flat Back Pearl as well as be used with hot fix / heat transfer tools. Mounting may require a bit work as they are shallower than acrylic pearls.
Because of the material they are made of the time it takes to melt the glue is shorter then a rhinestones.
A Sample of these pearls is available on our Sample Cards
---
RG Hot Fix Pearls come in the following sizes:

We now have Pearls in 5 Different Colors in all Sizes:
Natural Pearl, Blonde, Pink, Silver & Hematite*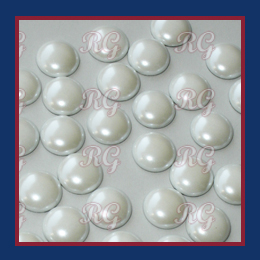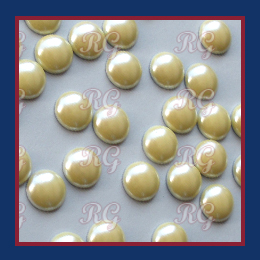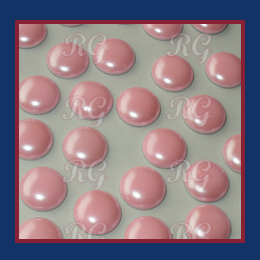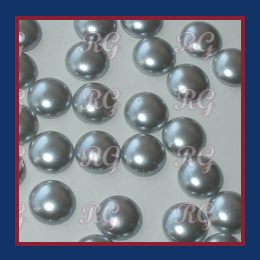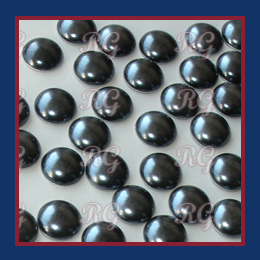 * Hematite is NOT available in 13mm
---
Hot Fix Pearls, Price Per Gross (144 each by weight)

10 Gross, discounted.

Size
1 Gross (144) -
10 Gross Min - (1,440 )
3mm
$3.09
$2.59
4mm
$3.59
$3.09
5mm
$4.99
$4.29
6mm
$6.29
$5.39
8mm
$7.49
$6.39
10mm
$8.89
$7.49
13mm
$10.59
$8.99

Pearl Size KIT

10 Gross (1,440) of Hot Fix Pearls -

$35.69

per package.

You will be receiving a total of 10 Gross, 1,440 Convex Nailheads comprised of:

3mm (10ss) - 3 Gross
4 mm (16ss) - 3 Gross
5mm (20ss) - 3 Gross
6mm (30ss) - 1 Gross
SAME COLOR PER KIT, No mixing of colors
---
Additional Pearls
(click to visit)

Rhinestone Guy Premium Pearls -Flat Back Pearl Cabochons
Swarovski Art 5817 Flat Back Pearl Cabochons
---