Swarovski Flat Back Rhinestones - Art. 2058 & Art 2088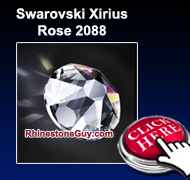 Swarovski 2088 Xirius Rose Flat Back Rhinestones are the latest production of Swarovski Crystals introduced in 2014. Swarovski rhinestone are cut to be highly reflective. These crystal are available from 12ss and up. The 2058 Xilion Rose Enhanced flat back rhinestones are still produced in the smaller sizes.
To learn about the style difference, see close up photos of the stones, and additional information see the link on the right.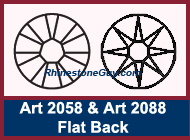 Swarovski rhinestones are sold as follows:
3ss to 4ss - minimum purchase 10 gross
5ss to 16ss - minimum purchase 1 gross
20 ss to 30ss - minimum purchase 1/2 gross
34ss to 48ss - minimum purchase 1 Dozen
Swarovski crystals come in multitude of colors and graduating sizes. Consult your color sample card.
Swarovski's AB colors were replaced with Shimmers, an updated coating that creates a lot of flash and sparkle. See photos in the link below:

---
For best pricing you should consider purchasing bulk packages. These are factory sealed packages and are discounted. It means Same Size / Same color:
3ss to 20ss - 10 Gross Package (1,440 rhinestones);
30ss - 2 Gross Package (288 rhinestones);
34SS and 40ss is packed by the Gross (144 rhinestones); and
48ss is packed 8 Dozen (96 pieces)
If you need for example 12 Gross of 20ss rhinestones, 10 will be at the Package Price and the 2 will be at the regular Gross price.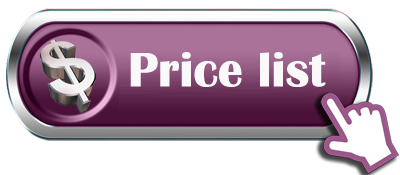 2088 Xirius Rose Cut.

2058 Xilion Rose Cut.