Hot Fix Tools for Rhinestones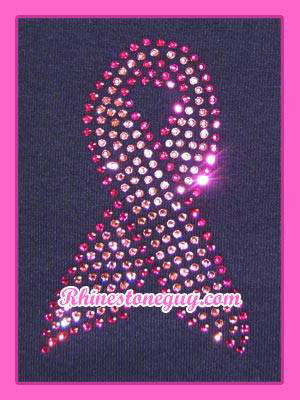 Using a Hot Fix tool or a Heat Press require that you purchase Hot Fix Rhinestones, Nailheads, pearls, etc... Which means the items come with glue on their underside. Read more about methods of applying rhinestones. Hot fix application of rhinestones on fabric is more permanent than gluing (this is how T shirts are made). The draw back for those who apply stones individually is that it is more time consuming and a bit tougher to do.
Applying rhinestones individually can be made with a wand type tool that has tips that fit the various rhinestones. See the article How to use a rhinestone hot-fix applicator.
For production purposes, transfers are made and a heat press is used to apply the transfer to the material. (some folks use their irons to accomplish the same) See the article: How to create Heat Transfers and How to Apply Heat Transfers Transfers. To create transfer you would need tacky paper (tape)
Rhinestone Guy's Hot Fix Rhinestone Applicator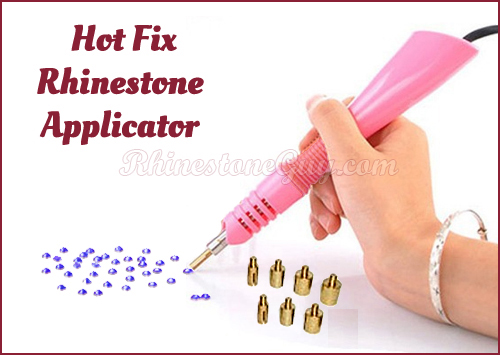 RG Rhinestone Applicator and rhinestone, hot fix pearls and nailhead setter is a great all around tool for hot fixing rhinestones. It comes with 6ss (2mm), 10ss (3mm), 16ss(4mm), 20SS (5mm), 30SS(6mm), and 34SS (7mm) rhinestone tips, and a two flat tips (4mm and 9mm). Each of the tips is etched for easy selection. It includes an integrated on and off switch, a stand, and features an ergonomic design. This rhinestone hot fix setter is a very good tool for those who do a lot of heat setting at a reasonable price.
-- $18.99
---
The Rhinestone Hot Fix applicators does not come with a 12ss tip. Those can be purchased separately.
In addition we carry Replacement Tips.
$2.25 each
There are other similar tools on the market at hobby stores.
The tips are universal, so If you need a replacement tip our tips should work.
---
Tacky Tape or Transfer Paper
We bring your the Highest quality Transfer paper to make Iron On transfers, 12 1/2" wide, sold by the running yard.
Our transfer paper features a white, waffle backing, our choice for transfer production. It has the perfect tack to hold stones in place...not too much, not too little.
Silicon Transfer Paper (Tacky Tape) by the Yard
Maximum Cut yards sold 20 yards increments
Price -- $3.00/Yard + plus freight (see below)
NOTE: To protect the tacky /transfer paper we need to ship it in a tube or a box.
Shipping charge for the tape starts at $13.99
Tacky tape does NOT qualify for free shipping promotion.
---
Silicon Transfer Paper (Tacky Tape) by the Roll
New by the Roll. Silicone transfer paper, best and higher tack than less expensive acrylic type tape. Superior for mass transfer production and high count stone transfers.
12.5" x approx 109 yards.
$198.99
Ships INDIVIDUALLY BY UPS Ground, Continental US ONLY, Signature Required
Toggle on

TABs for Heat Press Machines
Jet Presses -

Best Value

Jet Press 14 - BEST Value

Platen Size - 12 x 14
Swing out Action
Has temperature and pressure adjustment

This heat press is our choice for the light commercial and cottage industry. Easy to use. Great if you need a heat press for light jobs that would be just short of commercial duty.

Lifetime warranty on heat platen, 1 year on all other parts. Pressure and Temperature adjustments. This press is newly designed, has a very substantial swing post (same as the DK20S) and allows hand placement of stones without danger of hitting platen with hands…no burns! And, will handle thicker medium to heat set to…plaques, etc.

$495.00 plus ship - FOB Massachusetts, Shipped UPS Ground
Commercial Presses

-

Commercial Equipment - DK Series

Professional DK16 and DK20

The DK Series is the perfect fit for Commercial setups. These units have high resale value, are quality heat presses, fully adjustable, solid units. The only difference is the size of the platen. The 14X16" platen is the most popular Press for rhinestone applications. Either unit will need its own 115V circuit to operate. (You don't have to rewire your shop or home, but you cannot operate anything else on that circuit while using the heat press…it will trip your circuit breaker. Check your circuit breaker box to make sure that you have at least 15 Amp circuits (the DK20 should have a 20Amp circuit breaker for safety)

Fully digital Temperature control
Automatic Digital Timer
Digital Pressure/height gauge
Opens up to 110 degrees for full access to table
Teflon-coated 3/4" thick heat platen, programmable, number of presses records

The difference between the DK16 (14 x 16) and DK20 (16 x 20) is the size of the platen.

DK 16 Professional 120V/1500W, 120lbs --$1,075.00
Plus Ship - FOB Massachusetts, Shipped UPS Ground

DK 20 Professional 120V/1500W, 150lbs --$1,325.00
Plus ship =- FOB Massachusetts, Shipped UPS Ground

---

DK20S Commercial Swing Press

The DK 20S features all of the commercial DK presses features plus:

Swing away Action
Interchangeable tables
Accommodates up to 1" thick materials
Platen 16 x 20.
Teflon-coated 3/4" thick heat platen, programmable, number of presses records

DK 20S Professional 120V/1800W, 150lbs --$1,575.00
Plus ship - FOB Massachusetts, Shipped UPS Ground

---

DK7 Commercial Cap Press

The DK7 have the same features of the DK series however they are designed to handle sports hats / caps and hat bills.

DK7 - Single CAP, 120V/350W, 48 lbs --$595.00
FOB Massachusetts, Shipped UPS Ground

DK7T - Twin CAP, High Production --$900.00
Plus Ship - FOB Massachusetts, Shipped UPS Ground

---

DK Digital Combo Unit

The Digital Combo is a multipurpose swing-away heat press featuring interchangeable platens and tables. The photo features the shirt unit.

All units are FOB Massachusetts:

Digital Combo 14 X 16" DC 16, 1500 W, 120 lbs, with shirt head --$1,295.00 + ship

Other Attachments available: (plus ship)

Mug attachment....$400.00, Plate attachment.....$250.00, Cap attachment.....$300.00
---