Swarovski Hot Fix Rhinestones - 2038 Xirius Rose and 2078 Xilion Rose
Crystals with pre-coated, heat activated glue on the underside of the flatback stone. Ready or use in Rhinestone Transfers, heat press machines or hotfix rhinestone applicators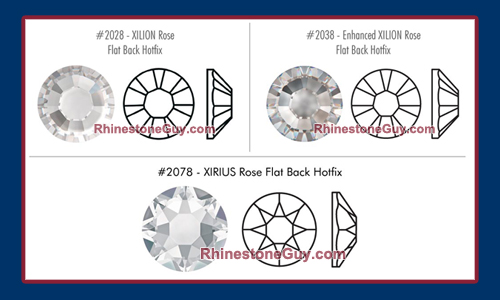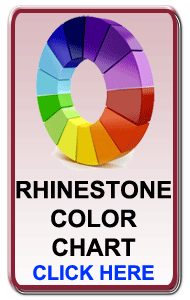 The latest hot fix rhinestone style from Swarovski is here, the Xirius Rose 2078. The xirius 2078 rhinestone style features a unique star design, luminous and bright just like Sirius the brightest star in Earth's night sky.
The Xirius rose style is replacing the Xilion Rose 2038 style. As we are switching stock we will send 2038 unless specifically requested. Both Hot Fix rhinestone styles feature the latest rose gold color, heat activated glue on the underside of the stone.
Swarovski Hot Fix rhinestones in 6ss and 10ss will be continued in the 2038 style.
The Swarovski 2078 Xirius rhinestones start at 12ss and will replace the 2038 in those sizes. The new style stones are packaged a little different. From 12ss to 20ss the Bulk package is like the old one at 10 Gross per package. The 30ss is now packaged at 2 gross (Swarovski 2038 30ss are packaged 2.5 gross). The 34ss and 40ss stayed at a 1 gross package.
Many of the hot fix AB colors will not be available under the new production. The Czech Preciosa and RG Premium Rhinestones, Hot Fix AB colors are a great alternative.
If you have a need for specific style ask before you purchase.
Swarovski rhinestones are sold as follows:
6ss and 10ss stones -

minimum 2 Gross

12ss to 20ss - minimum purchase 1 gross
30ss to 40ss - minimum purchase 1/2 gross
Please Note! When ordering Hot Fix Rhinestones,
PLEASE

tell us you want Hot Fix/Iron On rhinestones. Otherwise, you will receive regular flat back rhinestones.

For best pricing you should consider purchasing bulk packages. These are factory sealed packages and are discounted. It means same size & color 6ss to 20ss - 10 Gross package and 30ss - 2.5 Gross Package.

If you need for example 12 Gross of 20ss rhinestones, 10 will be at the Package Price and the 2 will be at the regular Gross price.
See prices by Size
There is a
rhinestone to a dime reference chart


when viewing by individual rhinestone sizes.
or, See Complete Price Listing