Tools for Gluing Flat Back Rhinestones

Gluing rhinestones is a fast an easy method for applying rhinestones. Any flat back surface (including hot fix stones) can be glued. Read more about methods of applying rhinestones.
Gem Tac Minis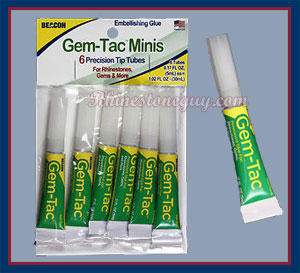 Introducing Gem-Tac Minis, the latest addition to our Gem Tac time tested glue.
The Gem-Tac Minis feature a 0.17 fl oz, in a metal tube and a precision tip. Their size and unique tip allows to control the flow of the glue without the need for using a syringe. They are sold by the tube or by the 6 tube package.
The mini tubes are excellent, for take along, for repairs, for travel, smaller projects and a project that multiple people do. The tubes are much easier to control and handle. We estimate that each tube could cover approx. 5 gross of 20ss rhinestones.
1 Tube = 0.17oz -- $1.49 each
Package of 6 Tubes (6 x 0.17oz) -- $6.49
---
Gem Tac Glue by Beacon
We have tested many glues on the market and found this to be the most consistent, easiest and trouble-free glue on the market. Gem-Tac is a high-quality, acrylic adhesive that remains flexible upon drying, dries clear, and is supplied in an easy-to-use micro tip applicator bottle.
If used correctly, it adheres to fabrics, clean metals, paint, glass, and plastic. If using with hard surfaces, be sure to clean the area with alcohol before applying glue. Perfect for attaching stones to garments, cell phones, calculators, personal assistants, ceramic, glass, metal, or paint.
Gem Tac is not suitable for affixing rhinestones to surfaces that dip below freezing temperatures.
We will NOT ship glue if we believe that the glue may encounter freezing temperature along the way. Please do NOT order this product if there is a danger of it freezing in your mail box before you pick it up!!!!!!
2oz Bottle with micro tip -- $6.49
---

Rhinestone Applicator Sticks - Regular
Applicator Sticks: Nothing more than toothpicks with Dental Wax (our proprietary mix) on one end.
To use: bring wax to about 98-100 degrees (I hold the sticks under my neck until warm) and roll into desired point...the smaller the stone, the sharper the point. Place glue on stone destination point, lightly touch the right side of the stone with the point of the applicator stick, and gently push into glue. Roll stick between fingers as you pull back and the stone stays where you put it, move on to next stone.
NO more cleaning tweezers, etc. Allows very fast rhinestone application.
Minimum 2 applicator Stick- $2.20 - plus $ 1.10 for each additional applicator stick
---
Applicator Sticks - Long
If you keep your rhinestones in deeper containers or if you like to hold along style pick our long applicator stick is another option. Instead of a toothpick we make it with a lollipop stick.
Sold individually -- $ 1.50 each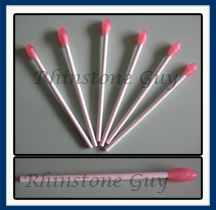 ---