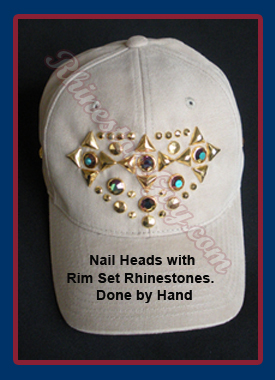 Nailheads come in two types: Hot fix nailheads, they have a flat back and can be either glued or applied with hotfix tools. Pronged Nailheads, made of metal that need to be set, mounted, either by hand or with a tool.
Here you will find our selection of metal nailheads. You can find Hotfix Nailheads and studs here...
Pronged Nailheads or studs have many uses and can add a whole lot of shine. Since they come in many styles, shapes and sizes, they can be mixed and matched to create a unique look. Nailheads give depth and dimension to any project and with rim set rhinestones can be just amazing.
They can be used to:
• Decorate jackets, shirts, collars, cuffs, blue jean legs, hats, belts and costumes.
• Decorate any accessories such as upholstery, headboards and lamp shades.
• Update and add flare to old purses, boots, hats or even the cat or dog's collar.
• Make traditional scrapbooks a bit different
• They can be used on their own or incorporated with tiffany or rim set rhinestones or cabochons for an amazing look.
Nailheads are made of brass, finished in either nickel (silver) or polished brass with coatings (gold). Other finishes are available in volume. All Nailheads have prongs that bend over to secure the decoration to fabric. Nailheads can be installed in fabric by hand, but are usually mounted using a tool, such as a Foot Press. The Brisk Setter can be used with the proper Nailhead attachment. Nailheads are available in many different shapes as shown below.
Sizes of Nailheads can be confusing, so if you are not comfortable with sizing, ask at time of ordering. The largest SS size that corresponds to Rhinestone sizing is 48SS. A 48SS Nailhead is the same as a #60 Nailhead (11mm.) See the chart at the bottom of the page.
Nail heads size chart:
Nailhead # Size
approx. SS

Approx.
Millimeter

#12
12ss
3.5
#16
16ss
4.5
#20
20ss
5
#30
30ss
6
#40
40ss
8-9
#60
48ss
12
#70
N/A
13
#80
N/A
15
#90
N/A
20
#100
N/A
22
---
Some of the Pronged Nail Heads on Sale! While supply lasts!
Link above