Preciosa Crystal Flat Back Faceted Jewels
Rhinestone Jewels are larger decorative shaped glass items that are applied to clothing (or jewelry) in place of genuine jewels. They can be made of Lead Crystal, Glass, or Acrylic, depending upon your budget and needs. Glass Jewels may be mounted with tiffany or rim mounts (if a mount is available for the size you choose) or glued properly with GemTac glue.
If jewels are drilled, they can be sewn on with proper stitching technique - these type of jewels can be found under Swarovski Sew On Jewels or our RG Sew On Jewels. The latest trend for larger jewels is the Sew On Type as sewing keeps these larger crystal secured.
Please note: Jewels sizes may not be accurate as displayed by the pictures as it depends on your computer's screen. They are measured by mm (25.4 mm = 1 inch) Please see sizing chart. None of the pictures below is to size. Use a mm ruler to find actual size.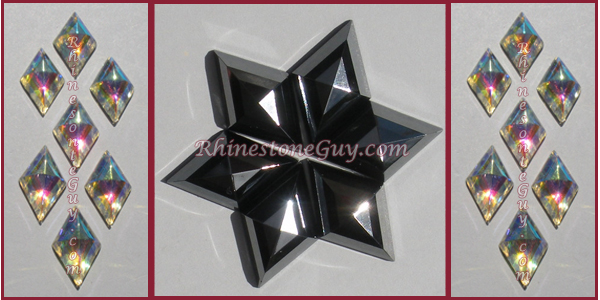 ---
Looking for Smooth, Non Faceted Large Round and Oval Crystals?