Rhinestones Color Chart - Sample Card
- NEW!
We strongly suggest that you purchase a sample card if you need to match specific color or use rhinestones often. If you are a rhinestone / crystals professional it is a must tool.
We do provide, Online Color Charts are available, however,do NOT rely on your computer monitor to represent the colors as depending on your monitor, video card and monitor's resolution colors may vary.
We produce our sample card in house. We have consolidate are two cards and create a fantastic one card. The updated card has two sides and is loaded with actual rhinestones, nail-heads, and shapes.
Our new card is now consolidated to one card, double sided.  [No need for multiple cards.]
The card is laminated for durability. The front, mail sample card, features actual stones that are placed on a hinged clear card so you can lift the stones and place stones over your project to see the match / effect.  The card feature a size reference chart with actual stones from SS5 to SS48. The new Rhinestone Guy sample card features the line up, all in actual Crystals and includes selected rhinestone shapes* glued to a strong clear sheet that is hinged to the base of the laminated card allowing you to lay the rhinestones over your fabric or your project.
The Price for The Card is: $37.99
The main front of the card features:
Bright Choice, flat back rhinestones color chart.
RG Premium, machine cut rhinestones
RG Premium, Acrylic Pearls
RG Premium Flat Luxury Shapes
RG Premium Acrylic Turquoise
Preciosa VIVA 12 and Maxima crystals, rhinestone color chart; and
Preciosa VIVA and Maxima flat back rhinestone, crystal shapes.
The back size features:
RG2 Korean Hot Fix Crystal and Crystal AB rhinestones
RG Hot Fix line of nail-heads:

Spots
Stars
Flat Pyramids
Rhinestuds, English Cut nail heads

RG Convex line of Hot Fix nail-heads
For a larger graphic, and or to purchase Online, go to the e-commerce site, click on the Shop on Line button below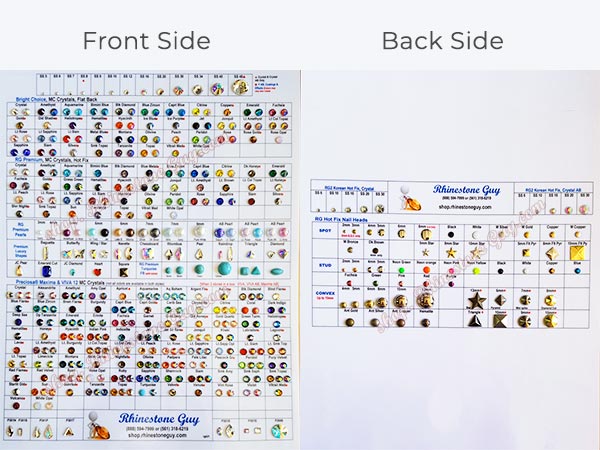 ---