Preciosa Crystal Glass Cabochons
Czech Preciosa Cabochons are a convex, medium dome, glass jewels with smooth surface that is highly polished. The cabochons are flat back and foiled for a beautiful reflection. The cabochons must be glued or mounted with either Tiffany Mounts or Rim Sets (available for many sizes).
We selected two types of cabochons for our customers. The glass matrix cabochons and high shine medium dome cabochons in clear colors and selected effect or AB coatings.
Please note: Jewels sizes may not be accurate as displayed by the pictures as it depends on your computer's screen. They are measured by mm (25.4 mm = 1 inch) Please see sizing chart. Use a mm ruler to find actual size.
Medium Dome Glass Cabochons
The cabochon are not faceted and are highly polished. The medium dome provides excellent shine, depth and a classic smooth look. We carry selected clear colors in popular colors and selected AB coated ones that are just amazing.
These cabochons can be used for apparel like shirts, hats, show jackets, jewelry, household decorations, hobby and art work.
Medium Dome Glass Cabochons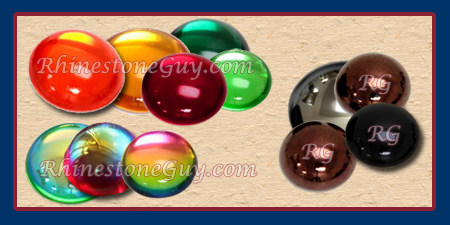 ---
Glass Matrix Cabochons
These cabochons are made of glass by hand to look like actual gemstones. There are faux jewels with no two alike.
Glass Matrix Cabochons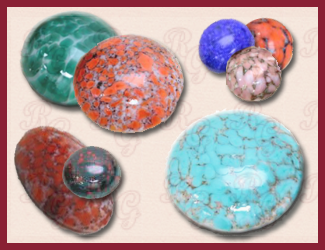 ---
Cabochons set in Rims are great. Decorate Jackets, hats and more...