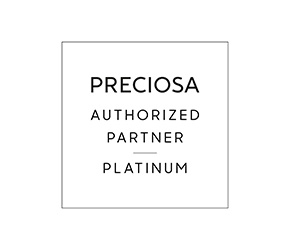 Preciosa® GENUINE CZECH CRYSTAL™ is the brand name for precision-cut crystals. Manufactured in the Czech republic where it all started with bohemian crystal the inspiration to all rhinestones including Swarovski. Preciosa began glass making in the 17th century and is well known for producing machine-cut crystal components, distributed worldwide. Their reputation for excellence has endured over the past sixty years.
We are proud to be a Preciosa Platinum Authorized Partner, so you can shop with confidence.
Czech Preciosa Flat Backs Stones
Czech Preciosa Flat Back included round rhinestone from sizes 3ss to 48ss and smaller rhinestone shapes.
These are flat back non hot fix. They need to be either glued or set.
Czech Preciosa Hot Fix Stones
Czech Preciosa Hot Fix include round rhinestones from sizes 6ss to 40ss and smaller rhinestone shapes. These are flat back and hot fix. You need to use a heating tool to apply these, however, they can always be glued.
Czech Flat Back Jewels
Czech Preciosa Flat Back jewels come in a variety of cuts, shapes and sizes. There are two types of jewels. Cabochons (smooth glass, medium domes) and Faceted Jewels. Glass cabochons come in transparent colors, AB colors and in faux stone look. faceted jewels come in two types of cuts Rose and Rauten cut jewels. Each style creates a unique and unusual looks. The jewels can be glued or set in tiffany or rim settings.
Czech Preciosa Sew On Jewel
Czech Preciosa Rhinestone Sew on Jewels are decorative shaped flat back and foiled glass items that are applied to clothing (or jewelry) in place of genuine jewels by sewing. Available in Crystal and Crystal AB and various Shapes.
Czech Preciosa Rhinestone Trim
Rhinestone Trim comes in one of three types: Mesh mount rhinestone banding, Rim set rhinestone cup banding, and rhinestone chain. Our rhinestone trim has Czech Preciosa rhinestones, in high quality settings.
Beware of inexpensive rhinestone trims that have inferior quality rhinestones.