Rhinestone Guy Gift Cards
---
Give a Gift of Sparkle!
We are very excited to offer our customers gift cards.
Gift cards are an excellent idea for any occasion. Let them purchased whatever they like and what they needs. Our gift cards in a customer sleeve. Fill out the To: and From: and you are good to go.
Birthdays
Graduation
Holidays
Dancers, Ice Skaters
Baccalaureate Parties
Mother's day
Cheerleaders
Thank you ... and anything else you can think of.
Gift cards are available in $25.00 denomination.
$25.00, $50.00, $75.00, etc...

There is a flat $8.00 processing fee
Free Priority Mail Shipping US Domestic Locations
Gift Card Terms:
1. The gift card will contain value which may only be used to purchase goods from Rhinestone Guy, LLC.
2. The card cannot be used to purchase other Gift Cards.
3. Gift card number MUST be rendered at the time of purchase and amounts less than the card's value will be deducted from the card balance.
4. The gift card cannot be redeemed for cash, and the unused value remains on the card.
5. Rhinestone Guy, LLC is not responsible for lost, stolen, damaged card or any unauthorized use.
6. The gift card will not be replaced it lost or stolen.
7. The gift card has no expressed or implied warranties.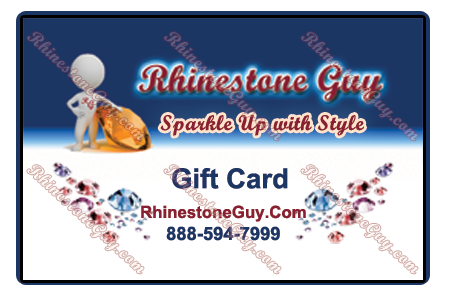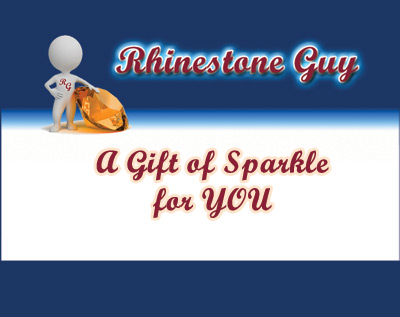 ---