Preciosa® Pendants ~ Art. 984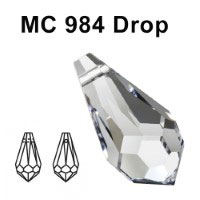 Preciosa® pendants are machine cut, representing the tradition of Bohemian glass craftsmanship combined with the latest technology. The Preciosa crystal pendants are cut to precision with each facet polished creating an amazing sparkle and clarity.
Preciosa pendants are versatile and can be used in Jewelry creations such as earnings and necklaces. They are used in apparel applications as dangling sew on jewels. Great for ice skating dresses, showmanship shirts, western wear, bridal and evening wear, and ballroom dance customs. They create an unbelievable fringe effects for gowns. They can also be used a hanging accents like edges of scarves and table clothes. They come in graduating sizes from 1/2 inch up to about 2/4 inch.
Preciosa Art 984 Teardrop Pendants are sold as follows:

By the Dozen 1 Dozen = 12 Pieces


Bulk Prices (discounted):

Factory sealed Package ~ Quantities as noted
Size
Quantity
Crystal
Crystal AB
Jet
11x5.5mm
1 Dozen
$3.69
$4.09
$4.29
13x6.5mm
1 Dozen
$4.79
$45.39
$5.59
15x7.5mm
1 Dozen
$6.39
$7.29
N/A
18x9mm
1 Dozen
$8.49
$9.79
N/A

Factory Package ~ Discounted Prices

11x5mm
12 Dozen (144)
$32.59
$37.49
$39.19
13x6mm
12 Dozen (144)
$42.59
$48.89
$51.19
15x7mm
12 Dozen (144)
$58.19
$66.69
N/A
18x9mm
12 Dozen (144)
$77.79
$89.49
N/A
---