Rhinstones and Jewels Size Reference Information
Rhinestones are measured in 'SS' (Stone Size), and jewels are measured in millimeter.
All current rulers have an inch side and a Centimeter (CM) side on them. Each centimeter (CM) is divided into 10 units, and each unit is a millimeter (MM). Below is a table of sizes in MM.
Any pictures of rhinestone sizes shown on this site must be considered as relative, for your computer set-up may change the size of how each graphic is displayed. Monitor size and settings will vary from station to station.
There is no way we can predict how your monitor will display these Images. Or if you print it, if it would be accurate.
We strongly suggest that you purchase a rhinestone sample card as they feature actual rhinestones including all sizes.

Rhinestone Sizes:
Below are rhinestones next to a dime to provide you with a better reference point:
(a 30ss rhinestone is like a pencil eraser - approx. 1/4 inch.- again the sample card has all the rhinestone sizes and more.)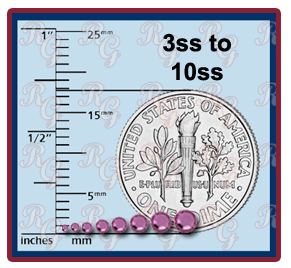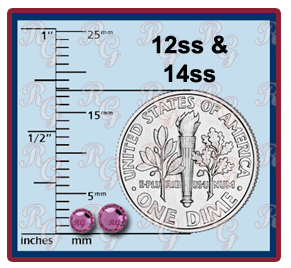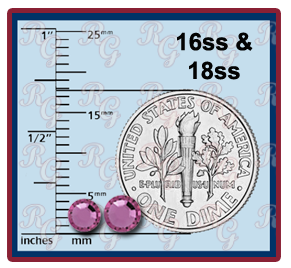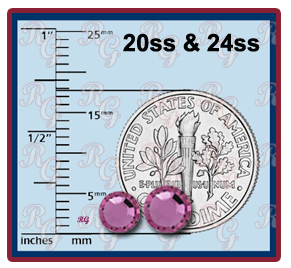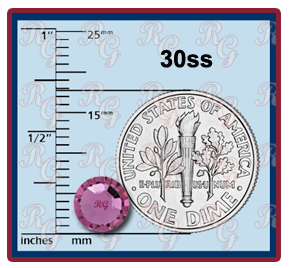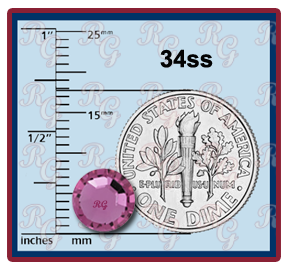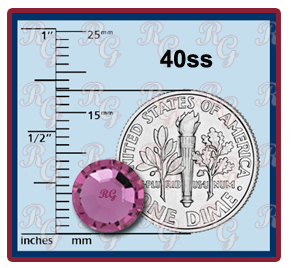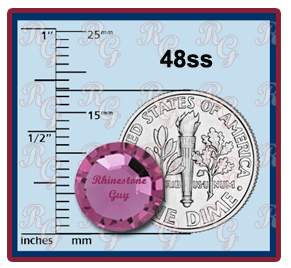 Jewel Sizes:
Jewels and hot fix nailheads are measured in millimeters and are measured in different ways. Round ones are measured by the diameter, square type shapes are measured from point to point and odd shapes are measured through a line in center. For example a sew on pear that is 18mm x 10.5, is approx. 3/4 inch tall (point to top) and almost 1/2 inch wide at the widest point.
Here is a handy Metric Comparison: 25.5 mm = 1 Inch, 18 mm = 3/4 Inch, 12.5 mm = 1/2 Inch, 9mm = 3/8", 6.5 MM = 1/4", 5 mm = 7/32", 3 mm = 1/8"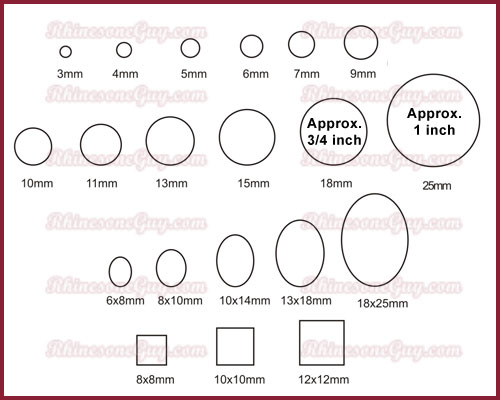 Pointed Back Rhinestones
Point back rhinestones, or chatons, come in very small sizes. The sizing starts with PP and goes up to SS.
PP (Pearl Plate) is a method of sizing originally used for pearls. These measurements have size variances. The following chart give the PP approx. sizes.
The chart below contains conversions for all type of stones. Rhinestones DO NOT come in all of these sizes (see above) This is for reference only and is NOT to scale
PP1 to SS 26



SS 27 and Up