Swarovski Crystal Sew On Stones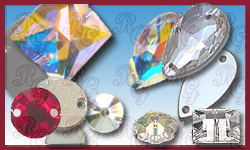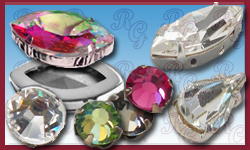 Swarovski Crystals Sew on Jewels are decorative shaped flat back crystal glass jewels. They are applied to clothing (or jewelry) in place of genuine jewels by sewing.
Jewels that are flat back and drilled either on two sides of the stone or in the center. Swarovski also make pendants with top holes that can be sewn and dangle. They are applied to the fabric with proper stitching techniques. A great deal of flat back sew on jewels are used in Irish Dance dresses, Horse show clothing, bridal wear and evening wear. The jewels combined with rhinestones and shapes create unique designs.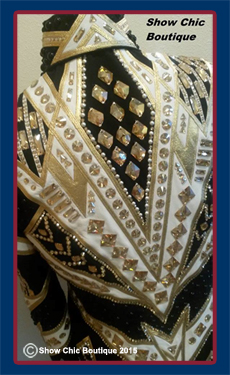 In addition, we carry sew on jewels come in metal mounts or carriers, like rose montees, so they look like tiffany set jewels but are sewn on. These are referred to as mounted sew on jewels or sew on in setting jewels.
Sewing Jewels to costumes or clothing can have an advantage as when the costume or garment is no longer needed or used, they can be removed and applied to a different item. Unlike glued or heat fix rhinestones, they are not as permanent.
Sew On Rhinestone Jewels are limited in both colors and sizing, so if you are going to incorporate rhinestones and jewels, be sure that you can find the jewels in the rhinestones colors you want to use, or find jewels that complement your rhinestone choices.
A less expensive excellent alternative to the Swarovski sew on jewels is available in Czech Preciosa Sew On Jewels in Crystal and Crystal AB. For colors, our Private Line of Sew On Jewels has many color choices to complement your project. - RG Premium Sew On Jewels
Click on
Diagram

below for sizes, prices and color availability of the individual shape:
---