Swarovski Pear ( Drop) Sew On Stone ~ Art. 3230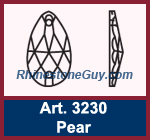 Swarovski 3230 sew-on Pears are faceted flat back jewels with 2 holes drilled on each side for sewing. The 3230 pears feature foil on the back of the stone for extra reflection, unless unfoiled. Sewing jewels are great for added style and sparkle. Sew on pears are popular in ballroom, Irish Dance Dresses, prom and wedding dresses, and Horse Show clothing.
We carry them in Crystal and Crystal AB in 3 different sizes. We carry in stock many additional great colors, however, they are not available in all of the sizes and supply may be limited. If you purchase a special color, get enough to cover your project.
We constantly search for what colors are available, so come and re-visit.
We also carry sew on pears by Czech Preciosa in Crystal & Crystal AB and our own line of RG Premium sew on pears.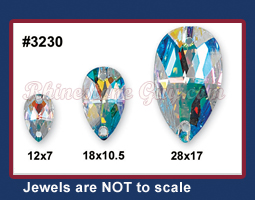 Swarovski 3230 Pear Sew On Stones are sold as follows:

1 Dozen = 12 pieces; pcs=pieces; 8 dozen=96 pieces; 6 dozen=72 pieces; 2 dozen=24 pieces;


Bulk Prices (discounted):

As noted
Colors
A to Z
12x7mm
- Dozen
18x10.5mm
- Dozen
28x17mm
- Dozen
28x17mm
- each
12x7mm
- 8 Dozen
18x10.5mm
- 6 Dozen
28x17mm
-2 Dozen
Crystal
$7.59
$16.29
$34.69
$4.69
$49.69
$81.09
$57.09
Crystal AB
$9.29
$20.09
$42.69
$5.69
$60.99
$99.59
$70.29
Crystal Shimmer
$9.29
$20.09
$42.69
$5.69
$60.99
$99.59
$70.29
Crystal Satin
N/A
N/A
$42.69
$5.69
N/A
N/A
N/A
Amethyst
$8.49
$18.39
$38.69
$5.19
$55.29
$90.49
$63.79
Amethyst Shimmer
$9.69
$20.99
$44.59
$6.09
$63.89
$104.29
$73.79
Aquamarine
$8.49
$18.39
$38.69
$5.19
$55.29
$90.49
$63.79
Aquamarine AB
N/A
N/A
$44.59
$6.09
N/A
N/A
$73.79
Astral Pink
$9.29
$20.09
$42.69
$5.69
$60.99
$99.59
$70.29
Black Diamond
$8.49
$18.39
$38.69
$5.19
$55.29
$90.49
$63.79
Black Diamond Shimmer
$9.69
$20.99
$44.59
$6.09
$63.89
$104.29
$73.79
Blue Zircon
$8.49
N/A
$38.69
$5.19
$55.29
N/A
$63.79
Capri Blue
N/A
$18.39
$38.69
$5.19
N/A
$90.49
$63.79
Citrine
N/A
N/A
$38.69
$5.19
N/A
N/A
$63.79
Cobalt
N/A
N/A
$38.69
$5.19
N/A
N/A
$63.79
Copper
$9.29
N/A
N/A
N/A
$60.99
N/A
N/A
Dorado
N/A
N/A
$42.69
$5.69
N/A
N/A
$70.29
Emerald
$8.49
$18.39
$38.69
$5.19
$55.29
$90.49
$63.79
Erinite
$8.49
$18.39
$38.69
$5.19
$55.29
$90.49
$63.79
Erinite Shimmer
$9.69
$20.99
$44.59
$6.09
$63.89
$104.29
$73.79
Fern Green
N/A
N/A
$38.69
$5.19
N/A
N/A
$63.79
Fire Opal
N/A
N/A
$38.69
$5.19
N/A
N/A
$63.79
Fuchsia
$8.49
N/A
N/A
N/A
$55.29
N/A
N/A
Golden Shadow
$9.29
$20.09
$42.69
$5.69
$60.99
$99.59
$70.29
Graphite
$8.49
$18.39
$38.69
$5.19
$55.29
$90.49
$63.79
Heliotrope
$9.29
$20.09
$42.69
$5.69
$60.99
$99.59
$70.29
Jet
$8.49
$18.39
$38.69
$5.19
$55.29
$90.49
$63.79
Light Amethyst
$8.49
$18.39
$38.69
$5.19
$55.29
$90.49
$63.79
Lt Amethyst Shimmer
$9.69
$20.99
$44.59
$6.09
$63.89
$104.29
$73.79
Light Chrome
$9.29
$20.09
$42.69
$5.69
$60.99
$99.59
$70.29
Light Colorado Topaz
$8.49
$18.39
$38.69
$5.19
$55.29
$90.49
$63.79
Lt Colorado Topaz Shimmer
$9.69
$20.99
$44.59
$6.09
$63.89
$104.29
$73.79
Light Rose
$8.49
$18.39
$38.69
$5.19
$55.29
$90.49
$63.79
Light Sapphire
$8.49
$18.39
$38.69
$5.19
$55.29
$90.49
$63.79
Light Sapphire Shimmer
$9.69
$20.99
$44.59
$6.09
$63.89
$104.29
$73.79
Light Siam
$8.49
$16.59
$38.69
$5.19
$55.29
$90.49
$63.79
Light Siam Shimmer
$9.69
$20.99
$44.59
$6.09
$63.89
$104.29
$73.79
Light Topaz
$8.49
$18.39
$38.69
$5.19
$55.29
$90.49
$63.79
Lt. Topaz Shimmer
$9.69
$20.99
$44.59
$6.09
$63.89
$104.29
$73.79
Light Turquoise
$8.49
$18.39
$38.69
$5.19
$55.29
$90.49
$63.79
Lilac Shadow -

Clearance

$6.99
$11.99
$24.99
$2.29

N/A

N/A

N/A

Luminous Green
$9.29
N/A
N/A
N/A
$60.99
N/A
N/A
Moonlight
N/A
$20.09
N/A
N/A
N/A
$99.59
N/A
Padpardascha
N/A
N/A
$38.69
$5.19
N/A
N/A
$63.79
Peridot
N/A
N/A
$38.69
$5.19
N/A
N/A
$63.79
Rainbow Dark
$9.29
$20.09
$42.69
$5.69
$60.99
$99.59
$70.29
Red Magma (UF)
N/A
$20.09
N/A
N/A
N/A
$99.59
N/A
Rosaline
$8.49
$18.39
N/A
N/A
$55.29
$90.49
N/A
Rose
N/A
N/A
$38.69
$5.19
N/A
N/A
N/A
Rose Gold
N/A
$20.09
$42.69
$5.69
N/A
$99.59
$70.29
Rose Peach
$8.49
N/A
N/A
N/A
$55.29
N/A
N/A
Rose Peach Shimmer
$9.69
N/A
N/A
N/A
$63.89
N/A
N/A
Sapphire
N/A
$18.39
$38.69
$5.19
N/A
$90.49
$63.79
Scarlet
$8.49
$18.39
$38.69
$5.19
$55.29
$90.49
$63.79
Silver Night
$9.29
$20.09
$42.69
$5.69
$60.99
$99.59
$70.29
Silver Shade
N/A
N/A
$42.69
$5.69
N/A
N/A
$70.29
Tabac
N/A
N/A
$42.69
$5.69
N/A
N/A
$70.29
Violet
N/A
N/A
$38.69
$5.19
N/A
N/A
$63.79
Vitrail Medium
$9.29
N/A
$42.69
$5.69
$60.99
N/A
$70.29
Volcano
$9.29
$20.09
$42.69
$5.69
$60.99
$99.59
$70.29
---