Czech Preciosa Pear Sew On
Art. 3025
Czech Preciosa 3025 Sew On pears are flat back jewels with 2 holes drilled on each side for sewing. The pears feature foil on the back of the stone for extra reflection. Sewing jewels are great for added style and sparkle. Sew on pears are popular in ballroom, Irish Dance Dresses, prom and wedding dresses, and Horse Show clothing.
They are available in three sizes 12x6mm, 18x10mm and 28x17mm in Crystal and Crystal AB.
Czech Preciosa sew-on pears are cut just like the Swarovski 3230 Sew On Pears providing great sparkle performance at an excellent price. They are a great alternative. For even a better price and some great colors consider RG Premium Pear sew-ons from our private line of sew on jewels.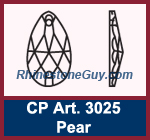 Brand: Czech Preciosa - Czech Republic
Stone Shape: Pear
Article #: 3025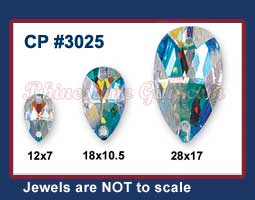 Clearance Sale COLOR Pears While Supply lasts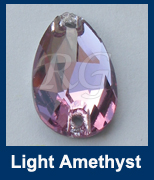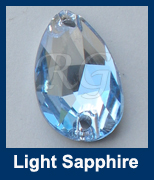 Czech Preciosa Sew On Pears are sold as follows:
Box prices are bulk and are discounted
Each = 1 piece
1 Dozen = 12 pieces = DZ
6 Dozen = 72 pieces
2 Dozen = 24 pieces
Size

12x6mm

18x10mm

28x17mm

28x17mm Each

Size

12x6mm

18x10mm
Crystal
$7.09
$12.69
$17.39
$2.69
Jet
$4.99

Sale

$7.99

Sale
Crystal AB
$8.39
$15.19
$20.79
$3.09
Other Colors
N/A
$9.99

Sale
By the Box
8 Dozen
6 Dozen
2 Dozen
.
Crystal
$48.39
$64.39
$29.59
.
Crystal AB
$57.99
$77.19
$35.29
.
Other Czech Preciosa Sew On Jewels
(click on image to visit)