Round Tiffany Mounts for Setting Rhinestones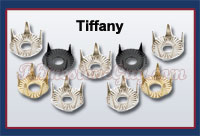 Tiffany mountings come from back of fabric/leather, though the fabric, and than the prongs wrap over rhinestone surface to hold it in place.
They are available in Silver (nickel), Gold (polished brass), and some in anodised (not plated) Black finish.
Warning!! Tiffany mounts have exposed prongs on finished side of garment. Do not use where snagging of adjacent fabrics is possible.
They can be mounted by hand or with Foot/Hand press.
Some of the tiffany mounts have center holes in them to secure them onto the surface they are attaching to. They can be used for sewing the tiffany outside the garment or accommodates a pointed back rhinestone. Larger ones can be nailed into wood, like back boards, to hold large stones.
Due to material shortagles, high quanity purchase requirements the availabilty of certain rim sizes we carry flactuate.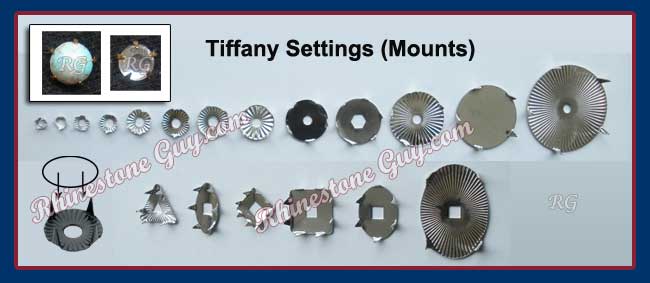 Check Availability and Prices @ our E Commerce Site using the link below
---