Tiffany Mounts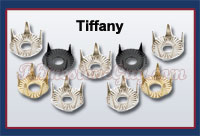 Tiffany mountings come from back of fabric/leather, though the fabric, and than the prongs wrap over rhinestone surface to hold it in place.
They are available in Silver (nickel), Gold or Black (Anodized, not plated) finish. You can mount them by hand or with a brisk setter. They are excellent for setting Swarovski and other Rhinestones.
Warning!! Tiffany mounts have exposed prongs on finished side of garment. Do not use where snagging of adjacent fabrics is possible.
Long Leg Tiffany Mounts are available for thick fabrics (3 or more layers of denim, some leathers) where legs of about 3 mm are required. Call for availability (2-3 weeks unless in stock) and prices. Use with Bedazzler, Brisk Set, Rhinestone Setter, Commercial Table or Foot Presses.
Some of the tiffany mounts have center holes in them to secure them onto the surface they are attaching to. They can be used for sewing the tiffany outside the garment or accomodate a pointed back rhinestone. Larger ones can be nailed into wood, like back boards, to hold large stones.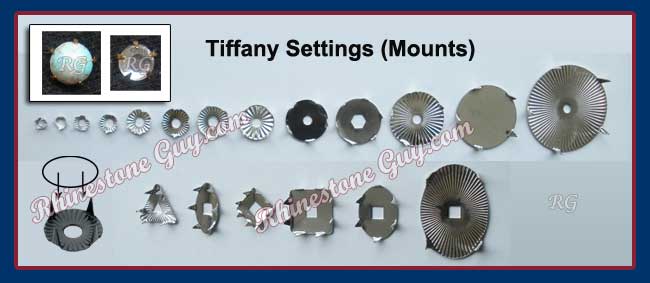 Prices
Click on

PRICE TABS
Tiffany - Standard (regular) Prong
1 Gross = 144 pieces; Measured by weight, Price Per Gross
Size

12ss

16ss

20ss

30ss

34ss

40ss

42ss

48ss
Silver
$1.99
$2.39
$2.99
$3.79
$3.99
$4.89
$5.49
$5.49
Gold
$1.99
$2.39
$2.99
$3.79
$3.99
N/A
$5.49
N/A
Black
N/A
$2.59
$3.09
$4.49
$4.99
$5.99
$5.99
N/A
Tiffany - Long Leg
1 Gross = 144 pieces; Measured by weight
Size

10ss

16ss

20ss

30ss

34ss

40ss
Silver
$2.29
N/A
$3.69
$4.69
$5.39
N/A
Gold
N/A
$2.49
$3.69
$4.69
$5.39
$6.99
Black
N/A
N/A
$3.99
N/A
N/A
N/A
Tiffany Set for Larger Jewels
1 Gross = 144 pieces; Measured by weight
1 DOZEN = 12 pieces;
Silver

Gross

$10.49
$13.49
$23.59
$35.29
Gold

Gross

$10.49
$13.49
N/A
N/A
Dozen

EITHER

N/A
N/A
$2.29
$3.39
Tiffany mounts - various shapes
1 Gross = 144 pieces; Measured by weight
1 DOZEN = 12 pieces;
Shape/Size

Square-8mm

Square-12mm

Triangle-13mm

Navette-15x7mm

Oval-14x10mm

Oval-25x18mm
Silver

Gross

$10.49
$12.69
$12.99
$13.99
$19.19
$23.59
Gold

Gross

$10.49
$12.69
N/A
N/A
N/A
N/A
Silver

DOZEN

N/A
N/A
N/A
N/A
$1.89
$3.69