Preciosa® Maxima Slim Baguettes Sew On ~ Art. 3020
Preciosa® Maxima 3020 Sew On Slim Baguettes are flat back jewels with 2 holes drilled on each side for sewing. The Slim Baguettes are thin rectangles with multitude of facets like the Swarovski Art 3255 Cosmic Baguettes. They are foil-backed (except as noted) for extra shine and reflection. Rhinestone shapes are great for added design, style and sparkle.
They are available in two sizes 18x6mm, approximately 3/4" tall by 1/4" wide.
Czech Preciosa sew-on rectangles are cut just like the Swarovski 3250 Sew On Rectangles providing great sparkle performance at an excellent price. They are a great alternative. For even a better price consider RG Premium Rectangle sew-ons from our private line of sew on jewels.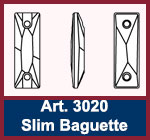 Brand: Czech Preciosa - Czech Republic
Stone Shape: Slim Baguette
Article #: 3020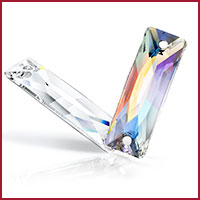 Preciosa Maxima Sew On Slim Baguettes are sold as follows:

1 Dozen = 12 pieces;


Bulk Prices (discounted):

6 Dozen =72 pieces
Size
Quantity
Crystal/Jet
Crystal AB
18x6mm
1 Dozen
$13.09
$16.29

Bulk Discounted Prices

18x6mm
6 Dozen (72)
$66.89
$82.69
Other Czech Preciosa Sew On Jewels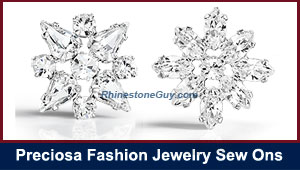 ---