RG 3255 Cosmic Baguette Sew On Stone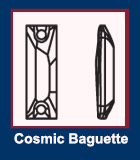 RG Cosmic Baguette (RG 3255) are a slim geometric rectangles. The Cosmic Baguette jewels are flat back crystals with 2 holes drilled on each side for sewing.
The Cosmic Baguette stones feature a multitude facets, and foil on the back of the stone for extra reflection. Sewing jewels are great for added style and sparkle.
They are available in two sizes 18x6mm (3/4 inch tall) and 26x8.5 (1 inch tall) and colors as shown below.
The Baguettes are available in 2 sizes 18mm x 6 (3/4 inch tall) and 26 x 8.5 mm (a bit over an inch).
Crystal, Crystal AB, Golden Shadow, Hematite, Jet

Dark Amber, Emerald, Light Colorado Topaz, Light Rose, Light Sapphire

Light Siam, Light Topaz, Sapphire

RG 3255 Baguettes Sew On (flat back) Crystals are sold as follows:

1 Dozen = 12 pieces; and Each - as noted.


Bulk Prices (discounted)- quantities as noted:

| Size | Quantity | Crystal | Crystal AB | Colors |
| --- | --- | --- | --- | --- |
| 18x6mm | 1 Dozen (12) | $7.19 | $8.99 | $10.39 |
| 26x9mm | 1 EACH | $2.09 | $2.39 | $2.79 |
| 26x9mm | 1 Dozen (12) | $11.69 | $13.39 | $15.39 |
| Bulk Discounted Prices | | | | |
| 18x6mm | 6 Dozen (72) | $36.79 | $45.89 | $52.79 |
| 26x9mm | 4 Dozen (48) | $39.59 | $45.29 | $52.09 |
---