Preciosa® Rhinestone Plastic Cup Banding
Rim set Banding HAS point back rhinestones set in plastic cups held with running strings of either nylon (non elastic) or elastic (stretch banding.) Crystal and Crystal AB banding is available in both non elastic and elastic. Color banding is only available in NON elastic setting.
For Crystal and Crystal AB rhinestones, the cups are available in either black or translucent plastic. For color stones, the cup and strings match the stones' colors. This banding looks wonderful when multiple rows are sewn together. This rhinestone banding remains flexible and can easily form curves to follow necklines. It is also great for decorating shoulder straps.
We sell them by the Meter (approx 39") or by the Card (10 Meters), discounted.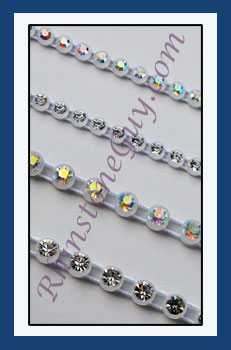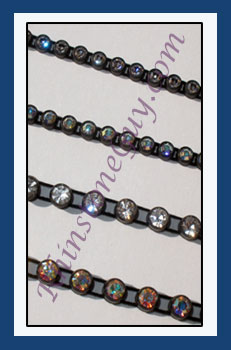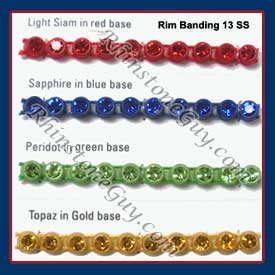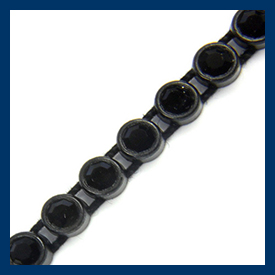 ---
Crystal & Crystal AB Rim Cup Banding - NON elastic

1 Meter = +- 39". Plastic Cup in either translucent cup/white or black / black.

Color / Setting:
Crystal Translucent
Crystal Black
Crystal AB Translucent
Crystal AB Black
Colors in Matching Cup
Attachment
White
White
White
White
see above
SS13 - Per Meter
$$4.19
$4.19
$5.79
$5.49
$5.79
SS19 - Per Meter
$5.49
$5.49
$6.39
$6.39
N/A

Bulk Discounted Prices, 10 Meter Cards

SS13 - 10 Meter Card
$34.39
$34.39
$46.49
$46.49
$46.49
SS19 - 10 Meter Card
$44.29
$44.29
$52.49
$52.49
N/A
Crystal & Crystal AB Rim Cup Banding - ELASTIC

1 Meter = +- 39". Plastic Cup in either translucent cup/white or black / black.

Color / Setting:
Crystal Translucent
Crystal Black
Crystal AB Translucent
Crystal AB Black
Attachment
Elastic White
ElasticWhite
Elastic White
Elastic White
SS13 - Per Meter - Elastic
$5.89
$5.89
$6.89
$6.89
SS19 - Per Meter - Elastic
$6.69
$6.69
$8.19
$8.19

Bulk Discounted Prices, 10 Meter Cards

SS13 - 10 Meter Card - Elastic
$47.79
$47.79
$56.69
$56.69
SS19 - 10 Meter Card - Elastic
$55.79
$55.79
$66.99
$66.99
---
Additional Rhinestone Trim Available:
---