Czech Preciosa Rhinestone Chain
Czech preciosa rhinestone chain a flexible metal chain holding point back rhinestones. It is used for a "jewelry" look on clothing, hair trim and can be incorporated in jewelry and craft projects.
Our Czech Preciosa rhinestone chains are available in polished silver or gold in crystal and crystal AB sizes 7ss to 18ss. In addition we have selected colors of 18ss chain in setting as shown. Beware of inexpensive chain that has inferior quality rhinestones and settings.
We offer chain by the yard and in bulk, by the spool.
Rhinestone Chain is available in the following colors/Settings: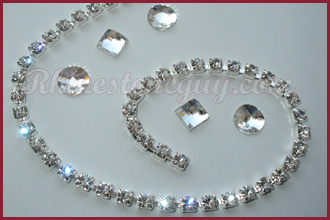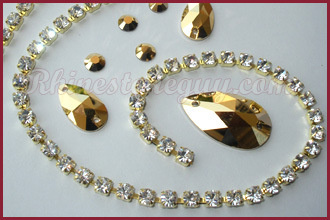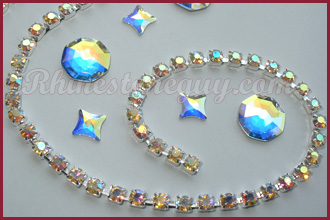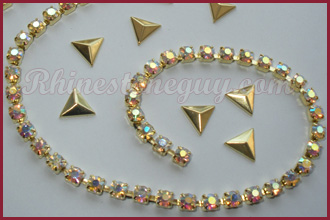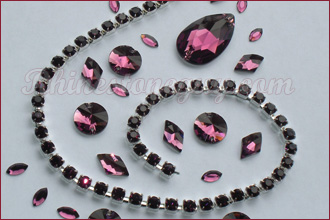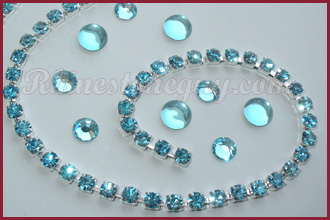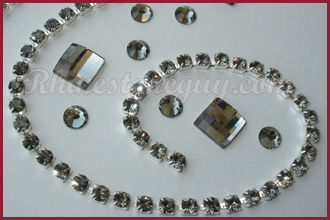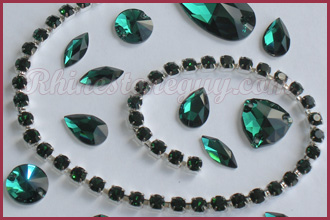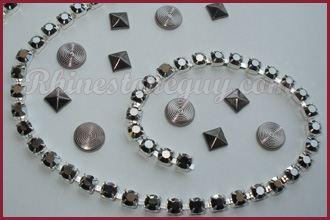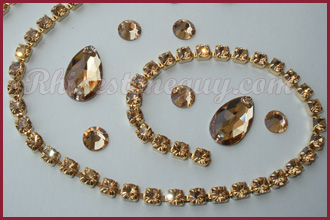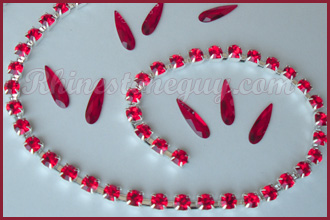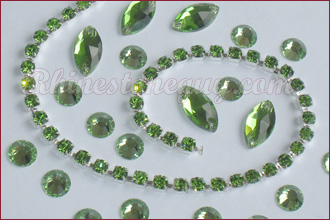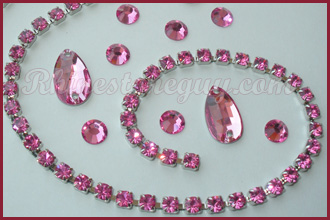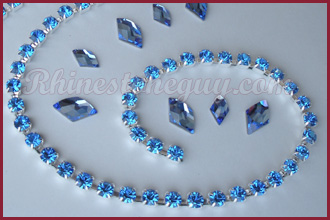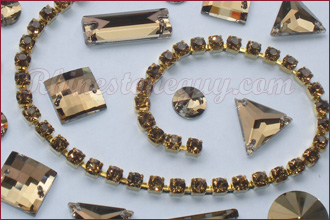 Click on

PRICE TABS
Chain by the Yard
Price per Yard. S=Silver Setting, G=Gold Setting, B=Black Settings
Size

color /setting

CRYSTAL

CRYSTAL AB

Colors

Amethyst

Aqua

Black Diamond

Emerald

Hematite

Jet

Lt. Colorado Topaz

Light Siam

Peridot

Rose

Sapphire

Smoked Topaz
7SS
Silver or Gold
$5.59
Special Order
Colors 7ss
N/A
N/A
N/A
N/A
N/A
N/A
N/A
N/A
N/A
N/A
N/A
N/A
12SS
Silver or Gold
$5.09
$5.39
Colors 12ss
N/A
N/A
N/A
N/A
N/A
N/A
N/A
N/A
N/A
N/A
N/A
N/A
16SS

Silver or Gold
$6.19
$7.19
Colors 16ss
N/A
N/A
N/A
N/A
N/A
N/A
N/A
N/A
N/A
N/A
N/A
N/A
18SS

Silver or Gold
$7.69/$6.49
$7.49
Colors 18ss
$7.19-S
$7.19-S
$7.19-S
$7.19-S
$9.19-S
$9.19-B
$9.19-G
$7.19-S
$7.19-S
$7.19-S
$7.19-S
$7.19-G
By The Spool
Spools vary in sizes, price is per spool. Please note: ss18 - Crystal Silver, Spool has 27.33 Yards (25 meters)
18ss Colored Spools are grouped into two:
Group A = Amethyst, Aqua, Black Diamond, Emerald, Light Siam, Peridot, Rose, Sapphire & Smoked Topaz
Group B = Jet, Hematite and Light Colorado Topaz
Size

CRYSTAL

-S

CRYSTAL -G

CRYSTAL AB

Colors - A

Colors - B
7SS-55 Yds
$270.49
$270.49
$347.29 S/G
N/A
N/A
12SS-55yds
$252.19
$252.19
$270.49 S/G
N/A
N/A
16SS

-25 Yds
$135.49
$135.49
$156.89 S/G
N/A
N/A
18SS

-25 Yds
$186.99-27.33
$145.89
$164.29 S/G
$165.29
$214.19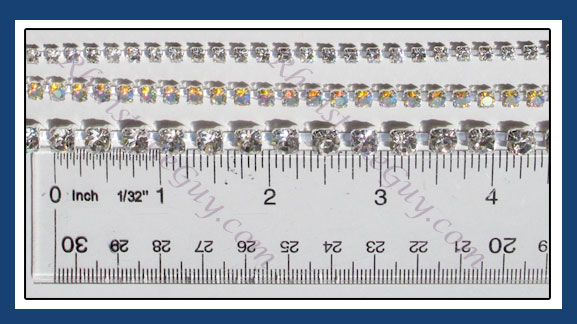 Additional Rhinestone Trim Available:
---