Bows, Bandanas & Hair Accessories
Hair Barrettes and Hair Combs:
Use 7SS/9SS/12SS to decorate for a flashy look Hair Extensions: Use a highly flexible, strong thread, such as upholstery thread, lay out to length, attach some kind of clip to affix in hair, and apply 12SS rhinestones in a tight row with a fine line of glue...work on Top of a garbage bag. When the glue is almost dry (starts to clear), turn the line over and apply rhinestones to the back of each rhinestone already glued. This will sandwich the rhinestones on the thread. Once the glue is dry, this will be a strong line of rhinestones that can be affixed in your hair. This is a terrific look for plated or straight hair. Beads used in platted hair can be rhinestones using 5SS rhinestones.
Retro Looks: It is time to revive a hot look from the late 70's through mid 80's, but with a new twist. Either purchase or make head bands. Cover with ELASTIC RHINESTONE BANDING by hand whipping to head band with a backstitch that allows stretch. Row after row, interleaving, will produce a solid rhinestone head band that will be very sharp looking. I have given you many ideas above to either do for your own projects, or start a cottage industry. Go for it.
Technique of application: See How to Decorate Cell phones
Bandanas
Bandanas are inexpensive and are very versatile. You can even easily make them on your own. Many come with patterns on them and all you need to do is decorate the patterns that are already there. Small rhinestones and rhinestone shapes are great ways to create unique looks to your bandana. You can either glue them or hot fix them with appropriate techniques.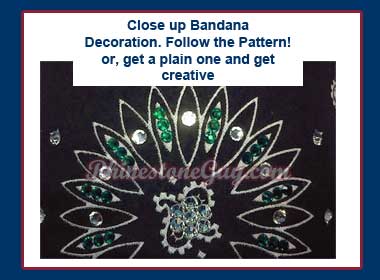 Hair Bows
Cheer Bows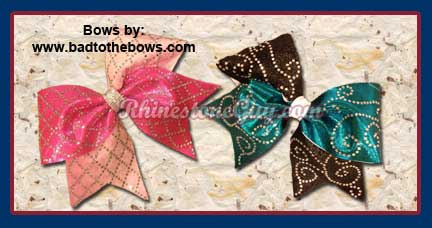 Decorated cheer hair bows are very popular. Rhinestones used to create these bows are usually smaller and in larger amounts for a great sparkle. You can glue the rhinestones, hot fix the rhinestones or even create a transfer for the bow's ribbon.
If you are creating your bow from scratch you will decorate the ribbon first, let is set (if you glue) and then make the bow. If you have the bow pre made, you will either glue the rhinestones one by one or hot fix the rhinestones individually with a hot fix tool. You will follow for gluing, the how to glue rhinestones to fabric, or for Hot Fixing, how to use a Kandi Kane.
There are many how to guides on the as to how to make, tie and create bows on the web, it is our opinion if you make your own, is decorate the ribbon first, make the bow next.