Preciosa Art. 3170 Loch Flower (Margarita)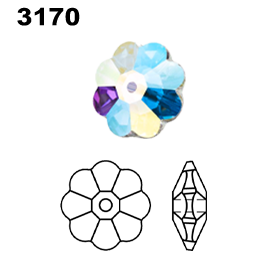 Preciosa Loch Flower are flower shaped sew on rhinestones drilled in the center. The 3170 Margaritas we carry have foiled back for extra reflection. The loch flower are direct replacement to the former Swarovski 3700 Margarita.
Some sew them on with monofilament thread, or use a small bead to cover the hole. Sewing jewels are great for added style and sparkle. Some refer to them as Margarita Beads.
They are available in sizes ranging from 6mm to 14mm. We carry them in Foiled Crystal, Crystal AB and Jet. Other colors are available by special order.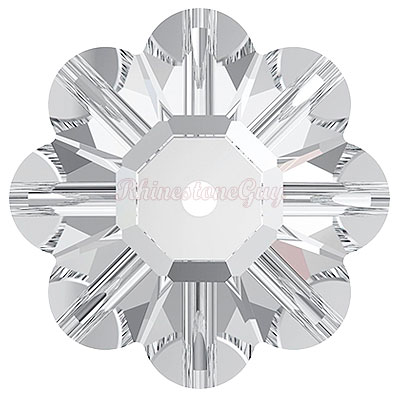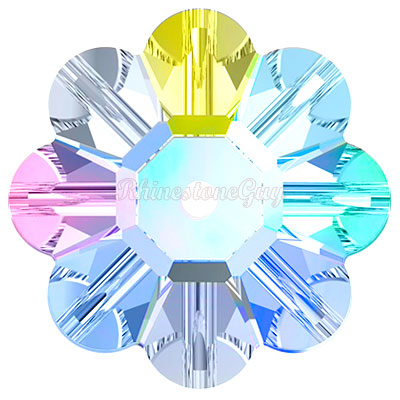 Art 3170 Marquerite Lochrose Sew On Stones are sold as follows:

1 Gross = 144 pieces; 1 Dozen = 12 pieces; N/A = not made/ not available


Bulk Prices (discounted): as noted

| Size | Quantity | Crystal | Crystal AB |
| --- | --- | --- | --- |
| 6mm | 1 /2 Gross (72) | $11.49 | $17.09 |
| 6mm | 1 Gross (144) | $21.29 | $31.79 |
| 6mm | 2 Gross (288) | $35.09 | $52.49 |
| 8mm | 1 Dozen (12) | $3.99 | $4.99 |
| 8mm | 1 Gross (144) | $34.29 | $43.79 |
| 10mm | 1 Dozen | $5.49 | $8.19 |
| 10mm | 1 Gross (144) | $47.69 | $71.59 |
| 12mm | 1 Dozen (12) | $8.49 | $12.79 |
| 12mm | 1 Gross (144) | $73.79 | $111.39 |
| 14mm | 1 Dozen | $12.09 | $18.19 |
| 14mm | 1 Gross (144) | $105.39 | $158.99 |
---