Swarovski Triangle Sew On Stone ~ Art. 3270
Effective May 2021 Swarovski discontinued distribution of crystal loose components to consumers, worldwide. But, there are alternatives.
Swarovski 3223 sew-on triangles are faceted flat back jewels with 3 holes drilled on each corner for sewing. The 3270 Triangle features foil on the back of the stone for extra reflection. Sewing jewels are great for added style and sparkle.
Preciosa® and RG Premium Triangles are the alternative
follow the links below.
They are available in Crystal, Crystal AB and a selection of Colors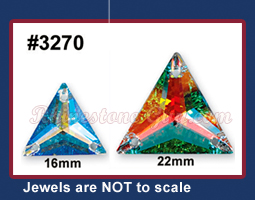 ---