Swarovski Art. 2816 Rivoli Star Flat Back
Swarovski 2816 Flat Back Rivoli Star, is a 5 point star, with a Rivoli style cut. The top of the star is a point. The shape features a silver foiled back that creates shine and extra reflection.
The Rivoli Star shape is available in 5mm size (approx. 20ss rhinestone size), in Crystal and Crystal AB..
Rhinestone shapes are great for added design, style and sparkle. These triangles are a great add on for those who decorate nails and are looking for a unique shape.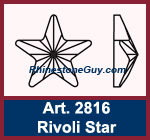 Brand: Swarovski, Austria
Name: Rivoli Star Flat Back
Article #: 2816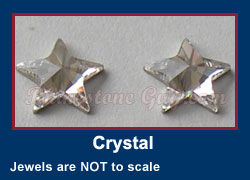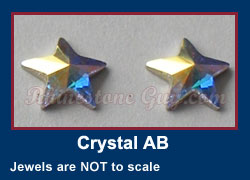 Swarovski Art 2816 Flat Back Rivoli Stars are sold as follows:

1 Dozen = 12 pieces;


Bulk Prices (discounted): as noted

Size
Quantity
Crystal
Crystal AB
5mm
1 Dozen (12)
$3.09
$3.79
5mm
1 Gross (144)
$33.39
$41.19

Factory Package ~ Discounted Prices

5mm
5 Gross (720)
$137.49
$170.19
---