Swarovski Heart - Art. 2808 - Flat Back
Swarovski 2808 Diamond Heart are multi faceted. Introduced in 2013 to the Swarovski collection. Share the love with this beautiful romantic shape. The heart has a flat back and is silver foiled for extra reflection. It can be incorporated in many design adding dimension and sparkle. Great for jewelry pieces, accessories and fashion. Rhinestone shapes are great for added design, style and sparkle.
We carry the heart shape in 2 sizes. The 6mm is about the size of a 30s Rhinestone and the 10mm is shy of a 48ss rhinestone. The are available in Crystal, Crystal AB and of course bright Red, Light Siam. Additional colors are produced and available by special order. A 14mm heart is available by special order, call for availability and pricing.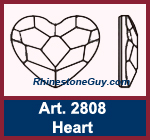 Brand: Swarovski, Austria
Name: Heart Flat Back
Article #: 2808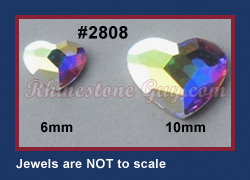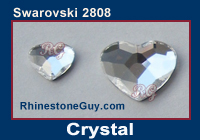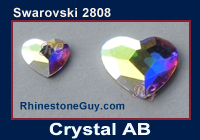 ---
Swarovski Art. 2808 Flat Back Heart Stones are sold as follows:

1 Dozen = 12 pieces; 1/2 Gross = 72 pieces; Gross = 144 pieces; UF = Unfoiled


Bulk Prices (discounted):

Quantities as noted
Size
Quantity
Crystal
Crystal AB
Light Siam
Standard Colors
Effects:
3.6mm
1/2 Gross (72)
$15.89
$18.69
N/A
Special Order
Special Order
3.6mm
1 Gross (144)
$23.79
$34.69
N/A
Special Order
Special Order
6mm
1 Dozen (12)
$3.99
$4.69
$4.29
Special Order
Special Order
10mm
1 Dozen (12)
$11.29
$13.49
$12.49
Special Order
Special Order

Factory Packages, Wholesale (Bulk) Discounted Prices

3.6mm

5 Gross (720)

$119.29
$143.09
N/A
N/A
N/A
6mm
2 Gross (288)
$76.89
$91.99
$84.49
$82.79 S/O
$90.19 S/O
10mm
1 Gross (144)
$111.29
$132.99
$120.39
$122.79 S/O
$130.39 S/O
14mm
8 Dozen (96)
Special Order, Call for pricing and availability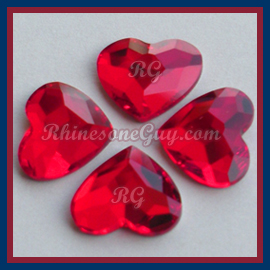 ---