Swarovski Hearts
Art. 2808 - Flat Back
Swarovski 2808 Diamond Heart are multi faceted. Introduced in 2013 to the Swarovski collection. Share the love with this beautiful romantic shape. The heart has a flat back and is silver foiled for extra reflection. It can be incorporated in many design adding dimension and sparkle. Great for jewelry pieces, accessories and fashion. Rhinestone shapes are great for added design, style and sparkle.
We carry the heart shape in 2 sizes. The 6mm is about the size of a 30s Rhinestone and the 10mm is shy of a 48ss rhinestone. The are available in Crystal, Crystal AB and of course bright Red, Light Siam.
It is sold by the Dozen (12 pieces). We also sell them in factory sealed packages (Bulk) at a discount. Additional colors available and can be purchased by the box, by special order.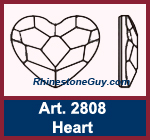 Brand: Swarovski, Austria
Name: Heart Flat Back
Article #: 2808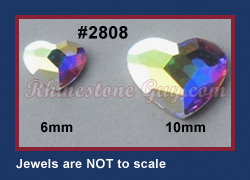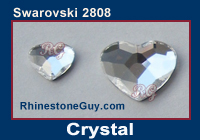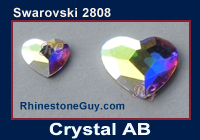 Swarovski Hearts are sold by the Dozen or in Bulk
1 Dozen = 12 pieces, 1 Gross = 144 pieces.
S/O = Special Order, only by the Box.
Available colors: Denim, Fuchsia, Jet, Light Silk, Rosaline. Effects: Antique Pink, Golden Shadow, Astral Pink Patinas: Black, Gold, Rose, Silver, White
14mm Heart are available by Special Order by the box.
Size

3.6mm-1/2 Gr

3.6mm-1 Gr

Size/Qty

6 mm

-Dozen

10 mm

-Dozen
Size/Qty

3 mm

-5 Gross

6 mm

-2 Gross

10 mm

-1 Gross

14 mm

-8 Dozen
Crystal
$15.89
$23.79
Crystal
$3.99
$11.29
Crystal
$119.29
$76.89
$111.29
S/O call
Crystal AB
$18.69
$34.69
Crystal AB
$4.69
$13.49
Crystal AB
$143.09
$91.99
$132.99
S/O call
Lt. Siam
N/A
N/A
Lt. Siam
$4.29
$12.49
Lt. Siam
N/A
$84.49
$120.39
S/O call
Std. Colors
N/A
N/A
Std Colors
S/O
S/O
Other Colors
N/A
S/O $82.79
S/O $122.79
S/O call
Effects
N/A
N/A
Effects
S/O
S/O
Effect Colors
N/A
S/O $90.19
S/O $130.39
S/O call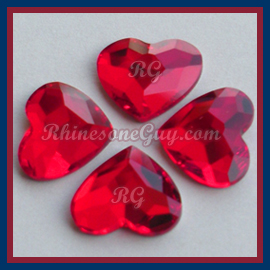 Other Swarovski Shapes (click to visit)
Find your Swarovski crystals at Rhinestone Guy
Stand out from the crowd. Swarovski inspires the world of fashion, art and design with its leading innovations, design and trends' expertise. Swarovski rhinestones and crystal components are made of ""advanced crystal" and are lead free*, compliant with international standards.
*Crystal Glass and all other materials containing 0.009% lead or less