Swarovski Art. 2773 Diamond ~ Flat Back
Swarovski 2773 Flat Back Diamond is part of the exciting Geometric Shape family on of three new silhouettes, the Kite, The Trapeze, the Diamond Shape, the elongated and concise Hexagons and the elongated and concise Pentagons. All are designed to work together.
This geometric shaped crystal has beautiful flat top and tiered surrounding facets. It is silver foiled for extra reflection. Rhinestone shapes are great for added design, style and sparkle. The smallest shapes are excellent for nail art work.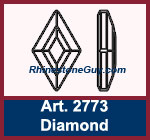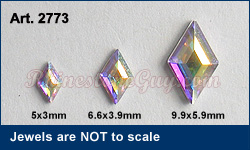 Brand: Swarovski, Austria
Name: Diamond Flat Back
Article #: 2773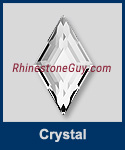 Effects:

Standard Colors:




Art 2773 Flat Back Diamonds are sold as follows:

1 Dozen = 12 pieces; UF = Unfoiled


Bulk Prices (discounted): as noted

Size
Quantity
Crystal
Crystal AB
Effects
Standard Colors
Hematite -UF
5x3mm
1 Dozen (12)
$2.99
$3.69
$3.69
$3.39
$3.49
5x3mm
1 /2 Gross (72)
$14.59
$18.09
$18.09
$16.29
$17.29
5x3mm
1 Gross (144)
$27.09
$33.59
$33.59
$30.29
$31.79
6.6x3.9mm
1 Dozen (12)
$3.69
$4.49
$4.49
$4.09
$4.29
6.6x3.9mm
1/2 Gross (72)
$18.19
$22.49
$22.49
$20.29
$21.29
6.6x3.9mm
1 Dozen (12)
$33.69
$41.39
$41.39
$37.69
$39.49
9.9x5.9mm
1 Dozen (12)
$6.29
$7.79
$7.79
$7.09
$7.49

Factory Package ~ Discounted Prices

5x3mm
24 Dozen (288)
$44.69
$55.19
$55.19
$49.99
$52.29
6.6x3.9mm
24 Dozen (288)
$55.49
$68.59
$68.59
$61.99
$65.19
9.9x5.9mm
12 Dozen (144)
$61.59
$76.19
$76.19
$68.99
$72.59
---