Swarovski Art. 2493 Chessboard Square Flat Back
Swarovski Chessboard Squares have unique square facets. The multitude of square facets create an amazing sparkle.They are flat back and silver foiled for extra reflection. Rhinestone shapes are great for added design, style and sparkle.
We bring them to you in Crystal, Crystal AB, and selected colors.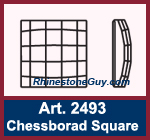 Brand: Swarovski, Austria
Name: Chessboard Square Flat Back
Article #: 2493



The following are colors that we stock:





Swarovski Art 2493 Flat Back Chessboard Squares are sold as follows:

1 Dozen = 12 pieces;


Bulk Prices (discounted): as noted

Size
Quantity
Crystal
Crystal AB
Golden Shadow
Black Diamond
8mm
1 Dozen (12)
$8.39
$9.89
$9.89
$9.09
10mm
1 Dozen (12)
$11.29
$13.49
$13.49
$12.49
12mm
1 Dozen (12)
N/A
N/A
N/A
$16.49

Factory Package ~ Discounted Prices

8mm
18 Dozen (216)
$122.79
$146.59
$146.59
$134.09
10mm
12 Dozen (144)
$111.29
$132.99
$132.99
$122.79
12mm
8 Dozen (96)
N/A
N/A
N/A
$108.09
---