Swarovski Art. 2205 Flame Flat Back
Swarovski 2205 flames have multitude of facets. The shape is one of the balance of nature inspired collection representing the fire element. Let your imagination take you.... flames, flower petals...
We bring them to you in great colors, Crystal, Crystal AB, and selected colors. The Flame Shape comes in 3 graduating sizes, 7.5mm, 10mm and 14mm.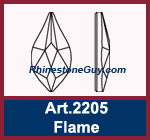 Brand: Swarovski, Austria
Name: Flame - Flat Back
Article #: 2205


Available Sizes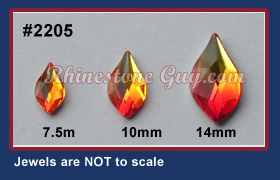 The following are colors that we stock:


Standard Colors:






Effect Colors:





Additional Effect Colors by special order:
Iridescent Green

(Effect Color)



Swarovski Art 2205 Flat Back Flames are sold as follows:

1 Dozen = 12 pieces;


Bulk Prices (discounted): as noted

Size
Quantity
Crystal
Crystal AB
Effects
Rose Gold/ Aurum
Standard Colors
7.5mm
1 Dozen (12)
$3.59
$4.29
$4.29
$4.29
$3.99
10mm
1 Dozen (12)
$6.29
$7.59
$7.59
N/A
$6.99
14mm
1 Dozen (12)
$11.39
$13.69
$13.69
N/A
$12.59

Factory Package ~ Discounted Prices

7.5mm
24 Dozen (288)
$69.59
$83.49
$83.49
$83.49
$76.59
10mm
12 Dozen (144)
$61.89
$74.39
$74.39
N/A
$67.99
14mm
6 Dozen (72)
$56.09
$67.19
$67.19
N/A
$61.69
---