Swarovski Hot Fix Rhinestones - Art 2038 & 2078 Prices

Effective May 2021 Swarovski discontinued distribution of crystal loose components to consumers, worldwide. Once our Swarovski stock is depleted, the crystals will no longer be available for purchase. As discontinued products, the stock,availability and pricing, are maintained only at our E Commerce Shop. A direct link below.
The following is a complete price listing for Swarovski Hot Fix Crystals: 2038 Xilion Rose Enhanced and 2078 Xirius flat back rhinestones.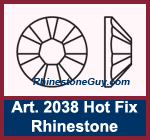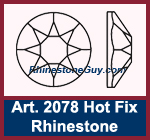 Included in this listing are Swarovski 2078i-Rimmed stones. The stones feature a rhinestone with a special metallic coating around the bottom edge creating the illusion of a "rim" around the stone. This "rim" is part of the stone (not an actual rim). They are available in 16ss, 20ss Flat Backs and 34ss Hot Fix (You can still glue)

---
Toggle on

PRICE TABs for different quantity /price options
Gross Price

-

144 pieces

Swarovski Art. 2038, 2078 & 2078i, Hotfix Rhinestones - Gross Prices

1 Gross = 144 pieces, by weight

Stone Size
Stone Style
Quantity
Crystal
Crystal AB/Effects
Colors
Colors AB /Hematite
6 SS - 2mm
Art. 2038
1 Gross (144)
$5.29
$7.59
$6.49
$8.09
10 SS - 3mm
Art. 2038
1 Gross (144)
$5.29
$7.59
$6.49
$8.09
12 SS - 3.2mm
Art. 2078
1 Gross (144)
$6.19
$8.49
$7.79
$9.09
16 SS -4 mm
Art. 2078
1 Gross (144)
$8.29
$11.49
$9.89
$12.29
20 SS - 5 mm
Art. 2078
1 Gross (144)
$11.29
$15.59
$13.49
$16.79
30 SS - 6.4mm
Art. 2078
1 Gross (144)
$23.89
$32.99 Crystal AB
Flat Backs only
34 SS - 7mm
Art. 2078
1 Gross (144)
$24.19
$33.39
$28.79
$35.59
40 SS - 8.6 mm
Art. 2078
1 Gross (144)
$40.39
$55.79 Crystal AB
N/A
N/A

2078 I Rimmed ~ Rim Color: Light Chrome or Dorado

34 SS - 7mm
Art. 2078 i
1 Gross (144)
$34.09
Jet - $36.39
Light Siam - $36.39
1/2 Gross Price

-

72 pieces

Swarovski Art. 2038, 2078 & 2078i, Flat Back Rhinestone - 1/2 Gross Prices

1/2 Gross = 72 pieces, by weight

Stone Size
Stone Style
Quantity
Crystal
Crystal AB /Effects
Colors
Colors AB /Hematite
20 SS - 5 mm
Art. 2078
1/2 Gross (72)
$6.89
$9.39
$8.19
$9.9
30 SS - 6.4mm
Art. 2078
1/2 Gross (72)
$14.29
$19.69 Crystal AB
Flat Backs only
34 SS - 7mm
Art. 2078
1/2 Gross (72)
$16.09
$22.39
$19.29
$23.79
40 SS - 8.6 mm
Art. 2078
1/2 Gross (72)
$26.99
$34.69 Crystal AB
N/A
N/A

2078 I Rimmed ~ Rim Color: Light Chrome or Dorado

34 SS - 7mm
Art. 2078 i
1/2 Gross (72)
$26.59
Jet - $28.59
Light Siam - $28.59
Dozen Price

-

144 pieces

Swarovski Art. 2038 & 2078 - Dozen Prices

1 Dozen = 12 pieces

Stone Size
Stone Style
Quantity
Crystal
Crystal AB /Effects
Colors
Colors AB /Hematite
34ss - 7.1mm
Art. 2078
1 Dozen (12)
$4.59
$5.99
$5.4
$6.49
40ss - 8.6 mm
Art. 2078
1 Dozen (12)
$5.29
$7.39 Crystal AB Only
N/A
N/A

2078 I Rimmed ~ Rim Color: Light Chrome or Dorado

34 SS - 7mm
Art. 2078 i
1 Dozen (12)
$5.39
Jet - $5.69
Light Siam - $5.69
Factory Packages

WHOLESALE PRICE

Swarovski Art. 2038, 2078 & 2078i, Flat Back Rhinestone - Bulk Prices

1 Gross = 144 pieces, by weight

Stone Size
Stone Style
Quantity
Crystal
Crystal AB/Effects
Colors
Colors AB /Hematite
6 SS - 2mm
Art. 2038
10 Gross (1,440)
$39.79
$55.59
$47.79
$59.59
10 SS - 3mm
Art. 2038
10 Gross (1,440)
$39.79
$55.89
$47.79
$59.59
12 SS - 3.2mm
Art. 2078
10 Gross (1,440)
$45.69
$63.09
$54.49
$67.39
16 SS -4 mm
Art. 2078
10 Gross (1,440)
$61.69
$85.29
$73.59
$91.19
20 SS - 5 mm
Art. 2078
10 Gross (1,440)
$84.29
$116.69
$110.19
$124.39
30 SS - 6.4mm
Art. 2078
2 Gross (288)
$35.69
$49.29 Crystal AB
Flat Backs only
34 SS - 7mm
Art. 2078
1 Gross (144)
$24.19
$33.39
$28.79
$35.59
40 SS - 8.6 mm
Art. 2078
1 Gross (144)
$40.39
$55.79 Crystal AB
N/A
N/A

2078 I Rimmed ~ Rim Color: Light Chrome or Dorado

34 SS - 7mm
Art. 2078 i
1 Gross (144)
$34.09
Jet - $36.39
Light Siam - $36.39
---