Large and Specialty Rim Sets for Mounting Rhinestones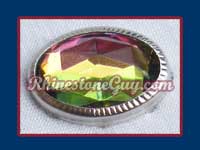 Rim sets are metal pieces designed for mounting rhinestone and jewels. Rim set mount from the top of the fabric, creating a metal ring around edge of stone covering the edged for a finished look. They are mounted either by hand or with mounting tools.
Standard rim sets are smooth. Since the rims set are seen as they top the rhinestones, for larger stones and jewels, some decorative rims are available. As seen in the photo to the right, the rim has groves (they are engraved) to add a little additional styling.
Following are decorated rims and specialty size for large size jewels, and special shapes rims.Due to material shortagles, high quanity purchase requirements the availabilty of certain rim sizes we carry flactuate.
Large Round Rims's Sizes:

Check Availability and Prices @ our E Commerce Site using the link below

---