RG Hot Fix Flat Pyramid Nailheads
Metal embellishments add lot of sparkle at an excellent prices. They can be mixed with rhinestones to create some great designs. Buy in small quantities or wholesale.
Hot fix flat pyramid nailheads are available in Silver or Gold in three sizes. They are relatively flat and provide a great, less expensive Alternative to our popular Convex Pyramids. Flat Pyramids can serve as shiny square and placed in an angle as diamond shapes.
The pyramids are sold by the PACKAGE. 5 Gross Increments.
For sample of colors available consider RG Premium Sample Card.

RG Hot Fix Flat Pyramids Nailheads are available in the following sizes: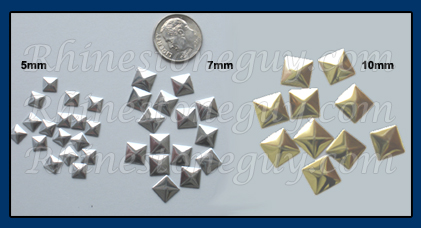 ---
Flat Pyramid Hot Fix Nailheads, Price Per Package, Quantities as noted

1 Gross = 144 Pieces, by weight


*

50 and 100 Gross = wholesale; does not qualify for free ship or any promotions.

*

| Size | 5 Gross (720) | 50 Gross (7,200) - Wholesale | 100 Gross (14,440) - Wholesale |
| --- | --- | --- | --- |
| 5mm | $7.45 | $49.50 | $74.29 |
| 7mm | $11.95 | $84.50 | $126.79 |
| 10mm | $14.95 | $104.50 | $156.79 |
---
If you need 3D taller Pyramids,
See our Convex Pyramids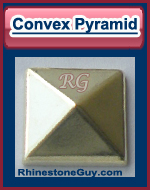 ---