Preciosa® Flat Back Triangle Rhinestone Shape
Czech Preciosa Triangle has a flat Top with facets at the edge. It is silver foiled for extra reflection. Rhinestone shapes are great for added design, style and sparkle. Use two triangle to create brilliant diamond shape.
Czech Preciosa Triangle is available in a 6mm size. This shape is not available in the Swarovski line of flat back rhinestone shapes. The 6mm size is similar to a 30 ss rhinestone.
Triangles are available in Crystal & Crystal AB and are sold by the Gross (144 pieces) , 1/2 Gross (72 pieces), by the Dozen (12 pieces) or in Bulk, discounted, factory sealed package.The triangle is flat back and will be glued. It is available in hot fix format for hot fix applications.

Brand: Czech Preciosa
Origin: Czech Republic
Name: Triangle Flat Back
Colors:Crystal or Crystal AB
RG Ref #: 301T

Czech Preciosa Flat Back Triangles are sold as follows:

1 Dozen = 12 pieces; 1/2 Gross = 72 pieces; Gross = 144 pieces; 2 Gross = 288 Pieces


Bulk Prices (discounted):

Size
Quantity
Crystal
Crystal AB
6mm
1 Dozen (12)
$3.99
$4.89
6mm
1/2 Gross (72)
$20.09
$24.19
6mm
1 Gross (144)
$37.29
$44.89

Bulk Discounted Prices

6mm
2 Gross (288)
$6829
$82.19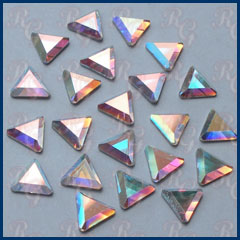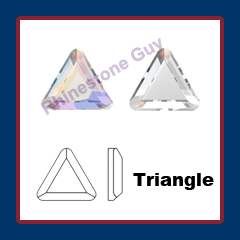 ---