Czech Preciosa Pear (tear drop)
Hot Fix
Czech Preciosa hot fix Pear has a rounded top and tapers at the bottom. Some call this shape a tear drop. The top of this pear is flat with facets at the edge. It is silver foiled for extra reflection. Rhinestone shapes are great for added design, style and sparkle.
They are available in Crystal and Crystal AB. The pears are sold by the Gross (144 Pieces) or 1/2 Gross (72 pieces).
The pear is hot fix and should be applied with hot fix tools. We have the same pears in a flat back format.
They are a great alternative to the Swarovski Hot Fix 2300 Pears.
Brand: Czech Preciosa
Origin: Czech Republic
Name: Pear Hot Fix
Colors:Crystal or Crystal AB
RG Ref #: HS301P

1/2 Gross = 72 pieces;
1 Gross = 144 pieces;
2.5 Gross = 360 pieces;
1/2 Gross

8x4.8 mm

10x6 mm

Gross

8x4.8 mm

10x6 mm

Bulk

8x4.8mm

-2.5 Gr

10x6 mm
Crystal

1/2g

$19.79
$25.09
Crystal
$36.89
$43.69
Crystal
$80.09
see 1 Gross
Crystal AB

1/2g

$23.99
$30.29
Crystal AB
$44.39
$52.69
Crystal AB
$96.59
see 1 Gross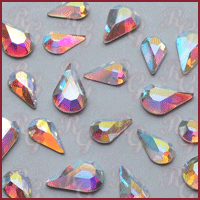 Other Czech Hot Fix Shapes
(click to visit)