RG Premium Sew-On Jewels
Rhinestone Guy's premium sew on jewels are our newest product line. These are Lead Crystal jewels, not acrylic. Excellent quality.
They are very brilliant and offer a great alternative to Swarovski sew on Jewels. They are made in comparable sizes
and shapes to Swarovski sew on's, while adding larger sizes not previously available. At the amazing prices for these jewels you can afford to double the volume and double the wow.
Holiday Special! 15% OFF RG Private Label Products
Promotion 12/2/2013 to 12/24/2013 at 4:00pm EASTERN TIME!
(Not valid on previous purchases)

15% off discount on all sew on Jewels in this page

Subject to stock availability.
Take your ideas and projects from ordinary to extraordinary by incorporating sew on jewels.
Most size are available in Crystal and Crystal AB. Sewing on jewels is a secure, terrific and easy method to attach substantial size jewels to garments.
Just In..New Colors. We now carry a total of 12 colors in selected shapes and sizes. These colors are complementary to many rhinestones.

| | |
| --- | --- |
| Sew On Jewel Color | Rhinestone Ideas - These are just ideas... different brands of rhinestones would match differently |
| Aqua | Aqua, Aqua Bohemica, Lt. Turquoise |
| Black Diamond | Black Diamond, Jet, Hematite, Silver night, Silver shade, Labrador |
| Blue | Sapphire, Denim |
| Light Rose | Light Rose, Rose, Vitrail Light |
| Light Topaz | Lt. Topaz, Sunflower, Topaz (lt) |
| Peridot | Peridot, Chrysolite, Ernite, Emerald |
| Purple | Tanzanite, Alexandrite, Provence Lavender |
| Ruby (red) | Siam, Light Siam |
| Topaz | Topaz, Topaz AB, Smoke Topaz (lt) |
| Vitrail Medium | Vitrail Medium, fuchsia, citrine, sapphire... All color of the rainbow. See variations below |
---
Vitrail Medium
The RG Premium line, Vitrail Medium.
No piece is the same and color range randomly in all colors of the rainbow. These jewels can work with our RG premium vitrail medium rhinestones and many other colors.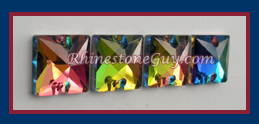 ---
Please note: Jewel Pictures (sizes) are NOT to scale. Jewels are measured by mm (25.4 mm = 1 inch) Please see sizing chart.
---
Classic Rectangle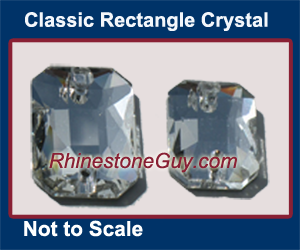 | | | |
| --- | --- | --- |
| Size | Crystal | Crystal AB |
| | Dozen | Dozen |
| 18 x 13 mm | $9.39 | $12.29 |
| 25 x 18 mm | $14.99 | $20.29 |
---
Curve
(Excellent for flowers and spiral designs)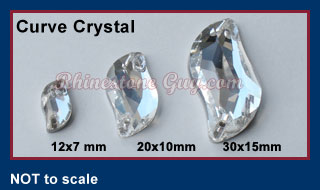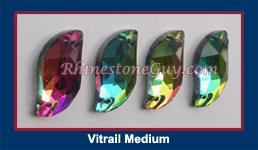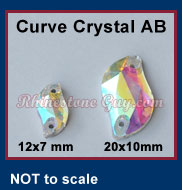 | | | | |
| --- | --- | --- | --- |
| Size | Crystal | Crystal AB | Colors |
| | Dozen | Dozen | Dozen |
| 12 x 7 mm | $7.49 | $8.79 | N/A |
| 20 x 10 mm | $9.99 | $11.39 | $12.59 |
| 30 x 15mm | $19.29 | $21.99 | N/A |
---
Navette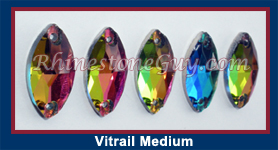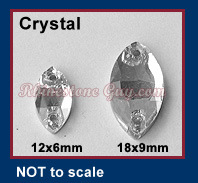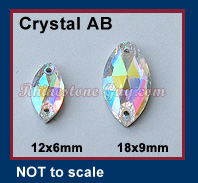 | | | | |
| --- | --- | --- | --- |
| Size | Crystal | Crystal AB | Colors |
| | Dozen | Dozen | Dozen |
| 12 x 6 mm | $4.99 | $5.79 | N/A |
| 18 x 9 mm | $8.59 | $10.59 | $12.59 |
| 22 x 13 mm | $11.99 | $13.99 | N/A |
| 32 x 15mm | $17.99 | $19.99 | N/A |
---
Octagon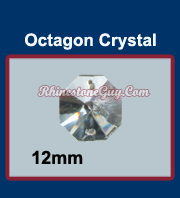 | | | |
| --- | --- | --- |
| Size | Crystal | Crystal AB |
| | Dozen | Dozen |
| 12mm | $3.99 | $4.99 |
| 14mm | $4.99 | $5.99 |
---
Oval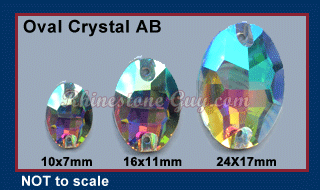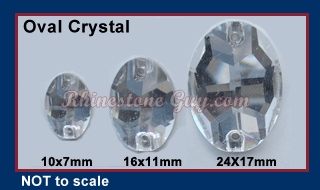 | | | |
| --- | --- | --- |
| Size | Crystal | Crystal AB |
| | Dozen | Dozen |
| 18 x 13mm | $7.49 | $9.49 |
| 24 x 18mm | $10.99 | N/A |
---
Pears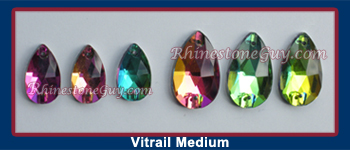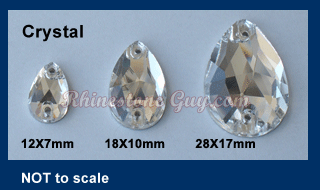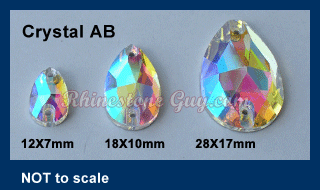 | | | | |
| --- | --- | --- | --- |
| Size | Crystal | Crystal AB | Colors |
| | Dozen | Dozen | Dozen |
| 12 x 7 mm | $4.99 | $5.79 | N/A |
| 18 x 10 mm | $7.99 | $9.49 | $12.59 |
| 22 x 13 mm | $9.99 | N/A | N/A |
| 25 x 17 mm | $12.49 | N/A | $18.99 |
| 38 x 22mm | $21.99 | N/A | N/A |
| 38 x 22mm | $2.99 Each | N/A | N/A |
---
Rectangle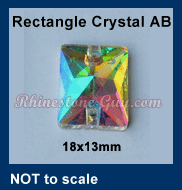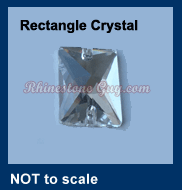 | | | |
| --- | --- | --- |
| Size | Crystal | Crystal AB |
| | Dozen | Dozen |
| 18 x 13mm | $9.29 | $11.99 |
| 25 x 18mm | N/A | $19.99 |
---
Square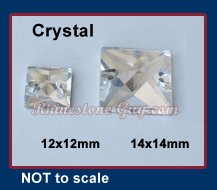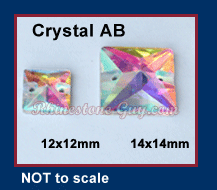 | | | | |
| --- | --- | --- | --- |
| Size | Crystal | Crystal AB | Colors |
| | Dozen | Dozen | Dozen |
| 10mm | $8.59 | $9.99 | N/A |
| 16mm | $9.99 | $11.39 | $13.99 |
| 22mm | $13.99 | N/A | N/A |
---
Triangle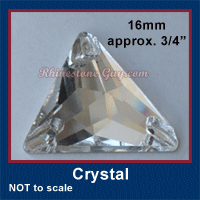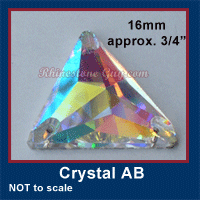 | | | | |
| --- | --- | --- | --- |
| Size | Crystal | Crystal AB | Colors |
| | Dozen | Dozen | Dozen |
| 12mm | $7.49 | $8.99 | N/A |
| 16mm | $8.69 | $10.89 | $13.99 |
| 22mm | $12.99 | $18.39 | N/A |
---