Mounting and Setting
for Rhinestones and Jewels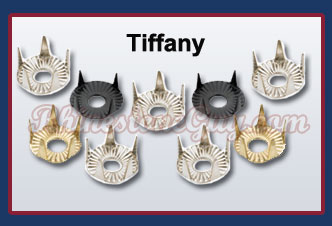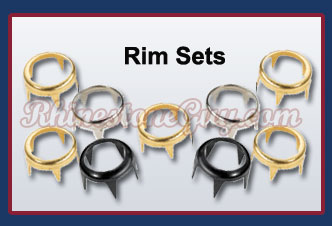 Mounts are used when decorating garments that will be dry cleaned, when applying large jewels that glues do not support well, or where mirrors do not have finished edges (rim mounts). Mounts are very popular with the Show Horse and Country Western sets, Ice Skating costumes where loss of stones is dangerous (on ice), or where a specific 'look' is required. Great for costumes that take a beating.  If setting nailheads and jewels/ crystal rhinestones, consider rim sets or Tiffany mounts.  Use when mounting rhinestones/jewels to leather (you will have to pre-punch leg holes in thicker leathers). 
We carry stock of tiffany and rim settings to complement the rhinestones and flat back jewels we carry in stock.
Tiffany Settings: Tiffany mountings come from back of fabric/leather, though the fabric, and than the prongs wrap over rhinestone surface to hold it in place.  They are available in Silver (nickel), Gold or Black (Anodized, not plated) finish.  You can mount them by hand or with a brisk setter. They are excellent for setting Swarovski and other Rhinestones.  Warning!! Tiffany mounts have exposed prongs on finished side of garment.  Do not use where snagging of adjacent fabrics is possible. 

Long Leg Tiffany Mounts are available for thick fabrics (3 or more layers of denim, some leathers) where legs of about 3 mm are required. Call for availability (2-3 weeks unless in stock) and prices.  Use with Bedazzler, Brisk Set, Rhinestone Setter, Commercial Table or Foot Presses.

Rim Sets:

  Rim sets mount over Swarovski and other rhinestones from the top of the fabric, and create a metal ring around edge of stone.  They are available in Silver (nickel), Gold (polished brass), and some in anodized (not plated) Black finish.  They can be mounted by hand or with Foot/Hand press,  Brisk Set (special adaptors, attachments required - dies available for all Rim Sets)...See our tools and equipment section.  No exposed prongs on finished side of fabric, but we suggest you use lining for a finished look or to prevent inside snagging (in case of a jacket, or on skin)
Tiffany Settings -Tiffany Mounts

Regular Prong Tiffany Setting

Price Per Gross (144 each)
Size
Silver
Gold
Black
12ss
$1.99
$1.99
N/A
16ss
$2.29
$2.29
$2.59
20ss
$2.89
$2.89
$3.09
30ss
$3.79
$3.79
$4.49
34ss
$3.99
$3.99
$4.99
40ss
$4.89
$4.89
$5.99
42ss
$5.49
$5.49
$5.99
48ss
$5.49
$5.49
N/A

Long Leg Tiffany Settings

Size

Silver
Gold
Black
Price Per Gross (144 each)
10SS
$2.29
$2.29
N/A
16ss
$2.39
$2.39
N/A
20ss
$3.69
$3.69
$3.99
30ss
$4.69
$4.69
N/A
34ss
$5.39
$5.39
N/A
40ss
N/A
$6.99
N/A

Large Round Tiffany Setting (Mounts)

Size
Silver
Gold
Price per Dozen
Per Gross, 144 each)
13mm
$10.49
$10.49
N/A
15mm
$13.49
$13.49
N/A
18mm
$23.59
$23.59
$2.29
25mm
$35.29
$35.29
$3.39

Tiffany Setting, Mounts - Shapes

Shapes
Size
Silver
Gold
Price per Dozen
Per Gross, 144 each)
Square
8mm
$10.49
$10.49
N/A
Square
12mm
$12.69
$12.69
N/A
Triangle
13mm
$12.99
N/A
N/A
Navette
15x7mm
$13.99
N/A
N/A
Oval
14x10mm
$19.19
N/A
$1.89
Oval
25x10mm
$23.59
N/A
$3.69
Rim Sets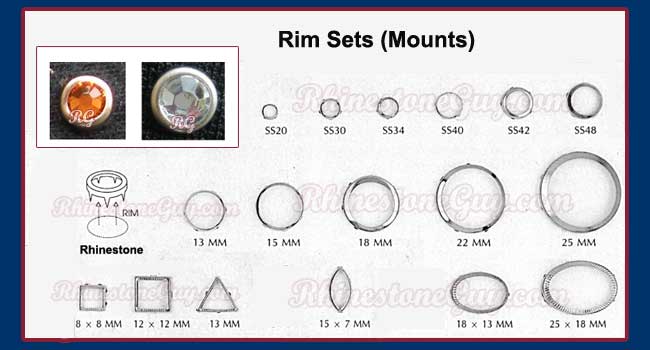 Unlike Tiffany settings, rim sets do not have exposed prongs,
therefore, the would not snag on clothing. They create a finished look.

Long-Leg (LL) rim sets have longer prongs and the will penetrate
up to 5-6 layers of denim. Sometimes they may be used in thin/soft
leather. They are about 3mm in length.

Rim sets are perfect for mounting cabochons (photo left), mirrors,
jewels, and flat back rhinestones when added finishing touches are required.

Rhinestone Rim Settings - Standard Length 
Rhinestone Round
Silver
Gold
Black
Antique Gold
Bronze
Price per Gross (144 each)
12ss
$2.99
$2.99
$3.19
$3.89
N/A
16ss
$2.99
$2.99
N/A
$3.89
N/A
20ss
$3.89
$3.89
$3.99
N/A
N/A
30ss
$4.99
$4.99
$5.69
$5.39
N/A
34ss
$5.49
$5.49
$6.79
N/A
$11.29
40ss
$6.79
$6.79
N/A
N/A
N/A
42ss
$7.99
$7.99
N/A
N/A
N/A
48ss
$9.59
$9.59
N/A
N/A
N/A
Price for 1/2 Gross (72 pcs)
48ss
$5.49
$5.49
N/A
N/A
N/A
Special Finish Rim Settings

Style

Silver
Gold
Price Per Gross (144 each)
40ss Round Rope Edge
$12.39
$12.39
48ss Engraved or Fluted
$11.29
$11.29
Long Leg Rim Settings
Size
Silver
Gold
Black
Price Per Gross (144 each)
12ss
$2.99
N/A
N/A
20ss
$4.79
$4.79
$5.39
34ss
$6.59
$6.59
N/A
Extra Long Leg Rim Sets
35% stronger than Regular Rim Sets
Silver
Gold
Black
Price Per Gross (144 each)
20ss
$5.69
$5.69
N/A
20ss HD
$7.79
$7.79
N/A
30ss
$9.89
$9.89
$13.49
40ss
$9.99
N/A
N/A

HD = Heavy Duty

2 Leg - Extra Long
Suitable for thick leather
Silver
Gold
Price Per Gross (144 each)
34ss
$15.69
$15.69
42ss
$15.99
$15.99
48ss
$14.39
$14.39
Rim Setting - Large Rounds
Round size
Silver
Gold
Price per Dozen
Per Gross, 144 each)
13mm
$8.49
$8.49
N/A
13mm -E
$8.99
$8.99
N/A
15mm
$12.99
$12.99
N/A
18mm
$20.29
$20.29
$1.99
22mm
$25.99
N/A
$2.49
25mm
$31.99
$31.99
$2.99

E = Engraved

Shaped Rim Sets
Shapes
Size
Silver
Gold
Price per Dozen
Per Gross, 144 each)
Square - engraved
12mm
$14.29
$14.29
N/A
Oval
14x10mm
S/O
S/O
N/A
Oval - engraved
18x13mm
$19.69
$19.69
$1.89
Oval - engraved
25x18mm
$35.49
$35.49
$3.69
Navette
15x7mm
$15.69
$15.69
$1.69
Heart - Engraved
15mm
$15.29
$15.29
$1.89
S/O - Special Order, minimum  quantities may apply