Tools and Equipment
click to jump to section
Glue, Glue Applicator Sticks, Tacky Tape(Transfer Paper), Kandi Kane, Bedazzler
Heat Presses, Mounting Presses, Commercial Equipment DK Series
Please note large equipment is subject to price changes and availability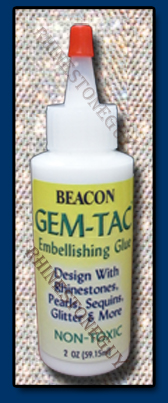 Gem Tac Glue by Beacon
We have tested many glues on the market and found this to be the most consistent, easiest and trouble-free glue on the market. Gem-Tac is a high-quality, acrylic adhesive that remains flexible upon drying, dries clear, and is supplied in an easy-to-use applicator bottle. If used correctly, it adheres to fabrics, clean metals, paint, glass, and plastic. If using with hard surfaces, be sure to clean the area with alcohol before applying glue. Perfect for attaching stones to garments, cell phones, calculators, personal assistants, ceramic, glass, metal, or paint. Gem Tac is not suitable for affixing rhinestones to surfaces that dip below freezing temperatures.
We prefer the 2oz bottle as glue does go bad. Why waste? Please do NOT order this product if there is a danger of it freezing in your mail box before you pick it up!!!!!! (Winter warning)
GemTac Glue 2 oz with Micro Tip Applicator ................................................ $ 5.95
---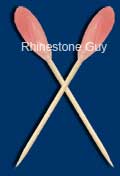 Rhinestone Applicator Sticks
Applicator Sticks: Nothing more than toothpicks with Dental Wax on one end.
To use, bring wax to about 98-100 degrees (I hold the sticks under my neck until warm) and roll into desired point...the smaller the stone, the sharper the point. Place glue on stone destination point, lightly touch the right side of the stone with the point of the applicator stick, and gently push into glue. Roll stick between fingers as you pull back and the stone stays where you put it, move on to next stone. NO more cleaning tweezers, etc. Allows very fast rhinestone application. Sold in packs of 2 or more
.................................. $ 1.10 each (2.20 per pair)

Long Applicator sticks for those who like to keep their rhinestones in deeper jars or containers.
This applicator stick is our great dental wax on a LOLLIPOP stick that is longer.
.....................$1.50 each
---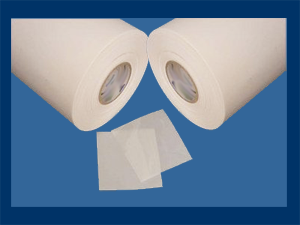 Tacky Tape / Transfer Paper
Tacky Tape: Highest quality Acrylic tape with waffle backing, used to make Iron On transfers, 12 1/2" wide, sold by the running yard. Has white, waffle backing, our choice for transfer production. Has the perfect tack to hold stones in place...not too much, not too little. (See 'how to make your own heat transfers' for complete instructions on its use)
...................................................................... $ 5.00 per yard, discounts on volume available 10 yards and up...
PLUS: $10.00 shipping charge! (does not qualify for free shipping promotion)
---
Kandi Kane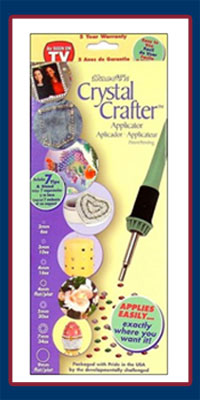 Kandi Crystal Crafter:
Made for the hobby crafter, comes with 6SS, 10SS, 16SS, 20SS, and 34SS tips, 4mm flat tip and 9mm flat tip...plug and play!  Good for light weight stoning, but in our opinion, too light weight to successfully mount 34SS stones ...takes too long! But a good buy for the money.
........     $ 16.95
This is a great all around tool for hot fixing ...comes with 6SS, 10SS, 16SS, 20SS, 30SS, and 34SS rhinestone tips, and a flat tip for nail heads. Handle is ergonomically designed for comfort, fast to heat.  A very good tool for those who do a lot of heat setting
......    OUT OF STOCK
12SS tip for either Kandi Kane:  $2.25 each   Please note, Kandi Kanes do NOT have a 12SS tip included!  
Extra tips or replacement tips for Kandi Kane:  $2.25 each
---
The 'BeDazzler' Rhinestone and Nail Head Setter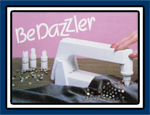 The 'BeDazzler' hobbyist Rhinestone and Nail Head Setter is perfect for personal stone and nail head setting.... Low cost, easy to use. 
Will set rhinestones using Tiffany mounts sizes 20ss and 34SS, Nail Heads 20SS. 30SS, 40SS, and some rim sets.   Please note: the Bedazzler tool is NOT SUITABLE for leather or multi layers of heavy fabric. This is a light weight unit suitable for hobby use only. PLEASE NOTE: Bedazzler now come in a plain cardboard box, include instructions and designs. They are no longer packed in a 4 color box. 
            In Stock now    .................................................................$9.95   (on SALE!) PLUS SHIPPING!
---
Heat Presses
Jet Press 12
9 x 12 Platen, Swing out Action, 375 degrees.
Inexpensive, simple to operate heat press without Bells and whistles. NO heat or pressure adjustment.
Great small press for the hobby-minded, or light-weight cottage industry

JP-12    …………………  $279.00  FOB Massachusetts, Shipped UPS Ground
Jet Press 14
12 x 14 Platen, Swing Action
Our choice for the light commercial and cottage industry.
Easy to use, has temperature and pressure adjustments.
Great if you need a heat press for light jobs that would be just short of commercial duty.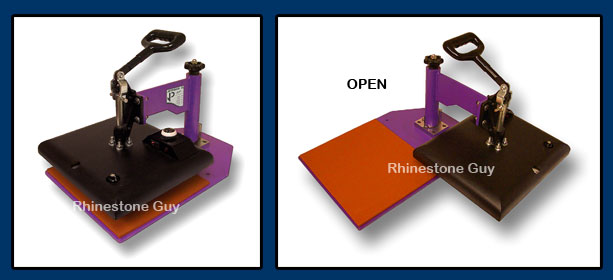 Lifetime warranty on heat platen, 1 year on all other parts.  Pressure and Temperature adjustments. This press is newly designed, has a very substantial swing post (same as the DK20S) and allows hand placement of stones without danger of hitting platen with hands…no burns! And, will handle thicker medium to heat set to…plaques, etc.
JP-14    …………………  $495.00  FOB Massachusetts, Shipped UPS Ground
---
Commercial Equipment DK Series
Professional DK16 and DK20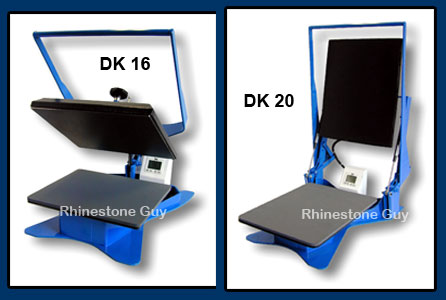 The DK Series is the perfect fit for Commercial setups. These units have high resale value, are quality heat presses, fully adjustable, solid units.  The only difference is the size of the platen.  The 14X16" platen is the most popular Press for rhinestone applications.   Either unit will need its own 115V circuit to operate.  (You don't have to rewire your shop or home, but you cannot operate anything else on that circuit while using the heat press…it will trip your circuit breaker. Check your circuit breaker box to make sure that you have at least 15 Amp circuits  (the DK20 should have a 20Amp circuit breaker for safety) Call Us if you have questions about how to set these units up.
Fully digital Temperature control

Automatic Digital Timer

Digital Pressure/height gauge

Opens up to 110 degrees for full access to table

Teflon-coated 3/4" thick heat platen, programmable, number of presses records...
The difference between the DK16 (14 x 16) and DK20 (16 x 20) is the size of the platen.
DK 16 Professional 120V/1500W, 120lbs.......................................$975.00 plus ship, FOB . Massachusetts
DK 20 Professional 120V/1500W, 150lbs.......................................$1,150.00 plus ship, FOB . Massachusetts
DK20S Commercial Swing Press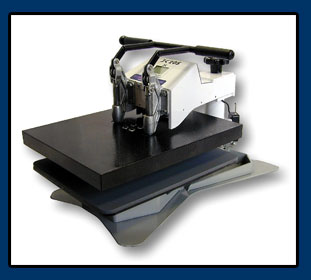 The DK 20S features all of the commercial DK presses features plus
Swing Away action
Interchangeable tables
It accommodates up to 1" thick materials
16X20 Platen
DK 20S Professional 120V/1800W, 150lbs.......................................$1,450.00 plus ship, FOB . Massachusetts
DK7 Commercial Cap Press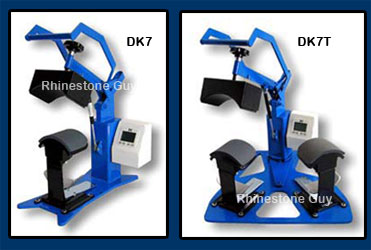 The DK7 have the same features of the DK series however they are designed to handle sports hats / caps and hat bills.
Available in
DK7 - Single CAP, 120V/350W, 48 lbs......................................$575.00 plus ship, FOB . Massachusetts
DK7T - Twin CAP, High Production......................................$775.00 plus ship, FOB . Massachusetts
DK Digital Combo Unit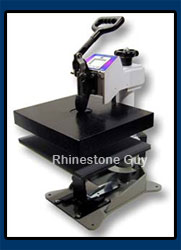 The Digital Combo is a multipurpose swing-away heat press featuring interchangeable platens and tables.
The photo features the shirt unit. All units are FOB Massachusetts:
Digital Combo   12 X 14"   DC 14,  1300 W, 120 lbs, with shirt head  ....... $995.00
Digital Combo   14 X 16"  DC 16,   1500 W, 120 lbs, with shirt head  .......$1,195.00
Other attachments, no photos:
Mug attachment....$300.00, Plate attachment.....$225.00, Cap attachment.....$275.00, Cube Attachment.....$200
---
Mounting Presses
The following mounting presses are no longer available: the Brisk Setter, RG Pro Setter and the Commercial Foot Press. Unfortunately they are not being manufactured at this time. There are still some Brisk Setters on the market. The brisk setters will do tiffany sets out of the box. However, the popular size adaptors for rims and nailheads settings are not available.
Table Top Professional Setter/Punch, Hand Operated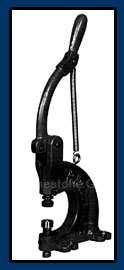 The tabletop Press is made of:
Quality cast construction, .
It can bolt to Your table top or work surface.  Cast Construct, Weight  50 lbs.
Weight  50 lbs.
The tool come WITHOUT DIES. So appropriate dies need to be purchased.
Commercial Grade and Use.
Order dies separately.    
TTop-ProS  …………………  $189.99 DELIVERED
UPS Ground
Dies for Table Top Commercial Hand Press:
Note: if you own a commercial foot press (not a grommet press) these dies may fit.
Dies ….State size and purpose    SEE BELOW
To order custom die(s) for nailheads, send 10 ea of nail head for die sizing unless you are purchasing Nail Heads from us.
Dies for Hand and Foot Presses:
Tiffany Mounts,  12SS, 16SS, 20SS, 30SS, 34SS, or 40SS....$ 79.99 each
Rim Sets:  16SS, 20SS, 30SS, 34SS, or 40SS  ……………… $ 79.99 each
All larger Tiffany or Rim Set sizes, Nail Heads such as:

Flat Spots, Pearls, Pyramids, Ribbons, Stars, etc...
Can be made ………………………………  Special Order, Call for pricing.
While we stock many of the Dies --> Dies are custom made to order. Please allow about 2 weeks for dies to be shipped.
---