Swarovski Triangle Sew On
Art. 3270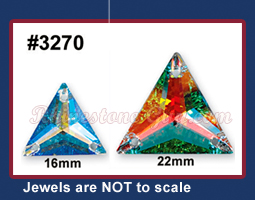 Swarovski 3223 sew-on triangles are faceted flat back jewels with 3 holes drilled on each corner for sewing. The 3270 Triangle features foil on the back of the stone for extra reflection, unless unfoiled. Sewing jewels are great for added style and sparkle.
They are available in two sizes 16mm and 22mm in Crystal, Crystal AB and selected colors as shown below. Jet is available by special order.The colors are in limited supply, so purchase enough to cover your project.
As an alternative, check our our Crystal, and Crystal AB and somel great colors at great prices are available in our RG Premium Triangle sew-ons.
Need a Diamond Shape? Sew two together to create a diamond shape. Or you can buy flat back diamond shapes from Czech Preciosa.
Swarovski triangles are sold by the Dozen or by bulk (discounted), the Box. 16mm comes in a 6 Dozen Box (72 pieces) and 22mm comes in a 2 dozen box (24 pieces); the 22mm is also sold by the piece.





Prices
DOZEN

PRICE

-

(12 Pieces / Dozen)

BULK

PRICE

-

(by the package as noted)

Swarovski Triangle 3270 Sew On:

1 Dozen = 12 pieces = DZ
6 Dozen = 72 pieces
2 Dozen = 24 pieces
S/O = By Special Order, full box only
N/A = Not Available


[we do not sell individual pieces]

Per Dozen

16mm

22mm

22mm

-EACH

Bulk

16mm-6 Dz

22mm-2 Dz

Crystal
$15.19/dz
$23.39/dz
$2.19/

Each

Crystal
$75.29
$38.49

Crystal AB
$21.39/dz
$32.69/dz
$2.99/

Each

Crystal AB
$105.39
$53.89

Jet
$15.19/dz
N/A
N/A
Jet
$75.29
N/A

Dorado/ Red Magma
$21.39/Dz
N/A
N/A
Dorado Only
$105.39
N/A
Other Swarovski Sew On Jewels
(click to visit)
Find your Swarovski crystals at Rhinestone Guy
Stand out from the crowd. Swarovski inspires the world of fashion, art and design with its leading innovations, design and trends' expertise. Swarovski rhinestones and crystal components are made of ""advanced crystal" and are lead free*, compliant with international standards.
*Crystal Glass and all other materials containing 0.009% lead or less