Czech Preciosa
Rhinestone Shapes
Flat Backs

Czech Preciosa rhinestone shapes featured below are flat backs and can be glued.
These beautiful rhinestone shapes are also available in Hot Fix format, most are in stock and others by special order and minimum order will apply.
These are smaller size shapes and are sold by the Gross (144 pieces) or 1/2 of a Gross (72 pieces).
Rhinestone shapes provide a great way to accent designs and create unusual patterns. The flat back shapes can be glued on We carry them in both Crystal and Crystal AB.
Czech Preciosa rhinestone shapes are a great and less expensive alternative to the Swarovski rhinestone shapes.
When a design calls for larger shapes, you have two options. One is to work with flat back LARGER jewels and shapes made by Czech Preciosa under Flat Back Jewels. The second is to work with Sew On Jewels. There are color choices in the larger jewels.
Our Master Sample Card features these shapes.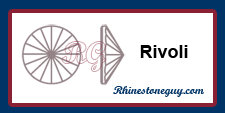 Swarovski produces many flat back crystal rhinestones shapes. Need other shapes?