Czech Preciosa Rhinestone Trim
Rhinestone Trim comes in one of three types: Mesh mount rhinestone banding, Rim set rhinestone cup banding, and rhinestone chain. Our rhinestone trim has Czech Preciosa rhinestones an chatons. Our trim is of high quality, scoll down for photos and links.
Beware of inexpensive mesh that has inferior quality rhinestones.
Mesh Banding:
Mesh Banding is available in Crystal and Crystal AB from1 to 24 rows in different type of setting. We also have mesh banding in selected colors, 4 rows. Click to visit: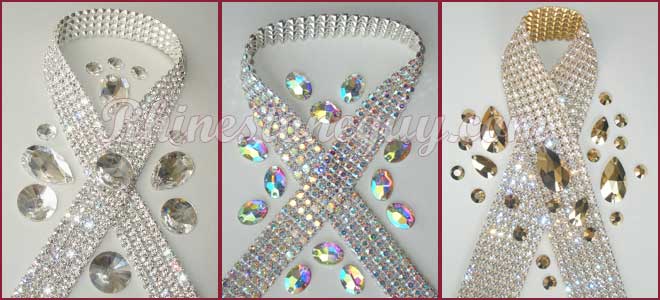 Mesh Crystal AB/Silver: 4 Rows x 1 meter Sale -
$23.99
Mesh Colors sale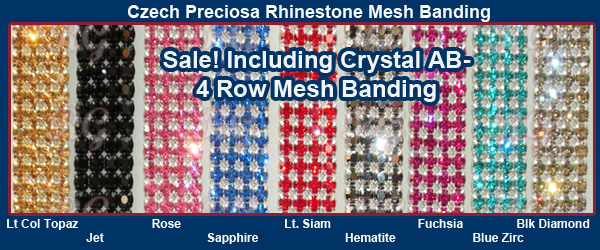 Rim Cup Banding:
Rim banding comes in Elastic and Non elastic, in Crystal and Crystal AB and either translucent or black banding. We also have 4 selected colors in non elastic banding.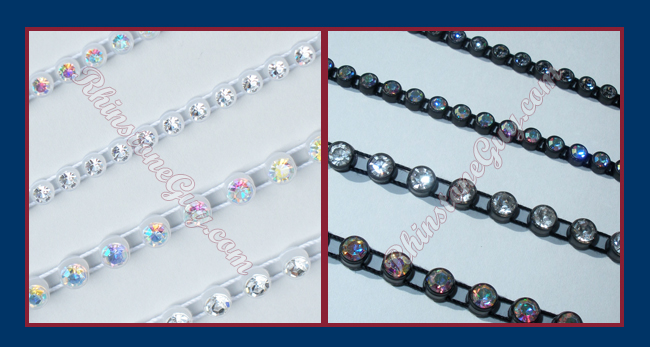 Rhinestone Chain:
Rhinestone chain is available in Crystal and Crystal AB in various sizes in either Silver or Gold setting. In addition, we carry a selection of colored rhinestone chain in different setting.