Nail Heads
Nail Heads or studs have many uses and can add a whole lot of shine.
Since they come in many styles, shapes and sizes, they can be mixed and matched to create a unique look.
Nail heads give depth and dimension. They can be used to: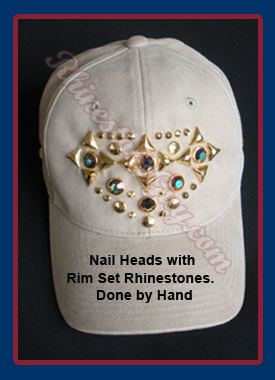 • Decorate jackets, shirts, collars, cuffs, blue jean legs, hats, belts and costumes.

• Decorate any accessories such as upholstery, headboards and lamp shades.

• Update and add flare to old purses, boots, hats or even the cat or dog's collar.

• Make traditional scrapbooks a bit different

• They can be used on their own or incorporated with tiffany or rim set rhinestones or cabochons for an amazing look.
Nail Heads
are made of brass, finished in either nickel (silver) or polished brass with coatings (gold). Other finishes are available in volume. All nail heads have prongs that bend over to secure the decoration to fabric.
Nail Heads can be installed in fabric by hand, but are usually mounted using a tool, such as a Foot Press. The Brisk Setter can be used with the proper nail head attachment.
Nail Heads are available in many different shapes as shown below. Sizes of Nail Heads can be confusing, so if you are not comfortable with sizing, ask at time of ordering. The largest SS size that corresponds to Rhinestone sizing is 48SS. A 48SS Nail Head is the same as a #60 Nail Head (11mm.)
They are sold by the Gross (144 each). Next to each price we placed a color code as to stock availability.
Color Availability:
G=Gold, N=Silver, AG=Antique Gold, AN=Antique Silver,
AC= Antique CopperORG=Oil Rubbed Bronze
Nail Head Sizes converted to mm, Sizes are approx.
SS sizes are for rhinestone size reference ONLY
Nail head # Size
approx. SS

Approx.
Millimeter

Nail head # Size
approx SS
Approx.
Millimeter
#12
12ss
3.5
#60
48ss
12
#16
16ss
4.5
#70
N/A
13
#20
20ss
5
#80
N/A
15
#30
30ss
6
#90
N/A
20
#40
40ss
8-9
#100
N/A
22
Flat Spot 1001
Available Sizes, Sold by the Gross (144 each)
7SS
10ss
#12
#16
#20
#30
#40
#60
#70
$1.99 G
$2.09 G
$2.29 G,N
$2.89 G,N
$3.59 N
$4.39 G,N
$5.99 G,N
$9.29 G,N
$13.39 N
N/A
N/A

$2.89 AN,AG

$3.69 AN,AG
$3.99 AN,AG
$4.99 AN,AG
$6.89 AN,AG
N/A
N/A
Pearl 1003
Available Sizes, Sold by the Gross (144 each)
6ss
#12
#16
#20
#30
#40
#50
#60
#70
#70
#90
$1.59 N
$1.99 N,G
$2.89 N,G
$3.49 N,G
$4.39 N,G
$4.79 N,G
$7.39 N,G
$7.89 N,G
$14.39 N
$15.49 G,N
$32.59 G,N
N/A
N/A
$3.29 AN,AG
$3.89 AN,AG
$4.89 AN,AG
$6.29 AN,AG,AC
N/A
N/A
N/A
N/A
N/A
Pearl 1003 - #20, 2 Long Leg, Silver: $4.79 per gross, #30, 2 Long Leg, Silver and Gold @6.39/gross
Diamond Cut 1007
Available Sizes, Sold by the Gross (144 each)
#12
#16
#20
#30
#40
#60
#70
$2.99
G,N
$3.29
G,N
$3.59
G,N
$4.39
G,N
$5.99
G,N
$7.99
G,N
$10.99
G
Flat Concentric Ring 6220
Available Sizes, Sold by the Gross (144 each)
#20
#30
#40
#60
$3.49
N
$3.99
G,N
$4.29
G
$6.39
G,N
Italian Cut 1002
Available Sizes, Sold by the Gross (144 each)
#12
#14
#16
#20
#30
#40
#50
$2.99
N
$2.99
N
$3.29
N
$3.99
G,N
$4.59
G,N
$7.59
N
$9.69
G,N
English Cut 1005
Available Sizes, Sold by the Gross (144 each)
10 SS
#16
#20
#30
#40
#60
$2.99
N
$3.49
N
$3.89
G,N
$4.39
G
$8.59
G
$13.79
G
Cone 1006
Available Sizes, Sold by the Gross (144 each)
#30
#40
#60
$4.89
N
$6.99
G
$10.99
N
Curved Pyramid
Available Sizes, Sold by the Gross (144 each)
#30
#38
#50

Straight

Pyramid

#90
703-30
700-38
701-50
037-90
$3.89
N
$7.59
G,N
$7.99
G
$11.99
G,N
Plain Square
Available Sizes, Sold by the Gross (144 each)
#35
#40
#50
#60
#90
$7.49
N
$7.99
G
$8.59
N
$8.99
N
$15.29
G,N
Stacked Pyramid
Available Sizes, Sold by the Gross (144 each)
#45 - 1074
$7.59
G,N
Multi Faceted Pearl
Available Sizes, Sold by the Gross (144 each)
#20
#30
#40
050-20
036-30
020-40
$3.89
G,N
$4.39 G,N
$5.09 AN
$6.39
N
Beehive Cone 905
Available Sizes, Sold by the Gross (144 each)
#16
#20
#30
#40
#60
$2.99
N
$3.69
G,N
$4.19
N
$6.19
G,N
$8.99
G
Orange Squeeze 907
Available Sizes, Sold by the Gross (144 each)
#20
#30
#40
$3.29
G
$3.59
G
$5.79
G
Pointed Orange 908
Available Sizes, Sold by the Gross (144 each)
#40
#70
908-40
160-70
$5.99
N
$16.99
N
Stippled Pearl 8744
Available Sizes, Sold by the Gross (144 each)
#16
#20
#30
#40
$2.79
N
$3.09
G,N

$3.69
G,N
$4.6
9AN

$4.69
G
Flat Diamond
Available Sizes, Sold by the Gross (144 each)

Eased Edge Diamond

#30
#120
#60
1196-30
1160-120
7671-60
$3.99 G
$13.69 G,N
$19.39 G
Beaded Diamond
Available Sizes, Sold by the Gross (144 each)
Raised Diamond
Available Sizes, Sold by the Gross (144 each)
#60
#120
#30
189-60
1163-120
1161-30
9.95
14.25
$4.89 G
Grid Diamond
Available Sizes, Sold by the Gross (144 each)
Convex
Available Sizes, Sold by the Gross (144 each)
#120
#60
#70
1170-120
1150-60
1154-70
$15.69 G,N
$15.69 G,N
$16.99 G,N
Facet Navette
Available Sizes, Sold by the Gross (144 each)
Ribbed Oval
Available Sizes, Sold by the Gross (144 each)
#80
#60
080-80
8716-60
$10.99 G
$11.39 G
Stars 1081
Available Sizes, Sold by the Gross (144 each) - Larger sizes are available by 1/2 gross (72 each)
20
34
42
60
70
100
150
5 mm
7 mm
8 mm
12 mm
15 mm
21 mm
28 mm

Per Gross

$4.49 G,N
$6.49 G,N
$9.89 G
$8.79 G
$13.29 G
$19.99 N
$28.99 N

Per 1/2 Gross

N/A
N/A
N/A
$4.99
$7.69
$12.99
$16.49
Filigree 8726
Available Sizes, Sold by the Gross (144 each)
#20
#30
#40
#60
#70
$5.99 G,N
$6.79 G,N
$7.99 G,N
$9.49 N
$12.89 N
Faceted Triangle
Triangle Swirl
Flat Triangle
#60
#70
#20
#40
#60
902-60
683-70
303-20
304-40
300-60
$8.59 G,N
$10.69 AG
$3.19 N
$6.49 G,N
$8.59 G,N
Gold Anchor
Spiral Pinwheel
#24
656-#20
644-#60
2010-24
656-20
644-60
1 Gross
1/2 Gross
$3.89 G
$9.59 N
18.99
10.69
Heart
Silver Ribbon
#100
8607-Left
8607-Right
1150-100
$8.19 N
$8.19 N
1 Gross
1/2 Gross
$16.29 G
$9.99 G