Rhinestone Sample Card & Stone Sizes
We strongly suggest that you purchase a rhinestone sample card. The Swarovski and Czech Preciosa cards are factory cards. The RG Premium card is made in house. The sample cards actual rhinestones. All are glued onto clear sheet letting you place the rhinestones over your fabric/project. Having a color chart will help you select the appropriate rhinestone colors.
We cannot afford to sample individual rhinestones, jewels, nail heads, or other products. Shipping, item costs, and handling costs are prohibitive due to our world-wide market.

Rhinestone Guy Premium, RG2, Nail Heads and Pearls Sample Card


Bundle Special: Swarovski, Czech Card + RG Premium, RG2 & Nailheads Card ---- $47.99
Swarovski and Czech Preciosa Sample Cards
The Swarovski and Czech Preciosa Factory cards, 2 separate cards, have sizes and all colors from both rhinestone manufacturers. Both card have the rhinestones on clear sheet so you can place the stones over your fabric/project.

The cost of this card includes shipping (for 2 cards) .............................................................................$ 37.99

Bundle with Rhinestone Guy Premium Sample Card and SAVE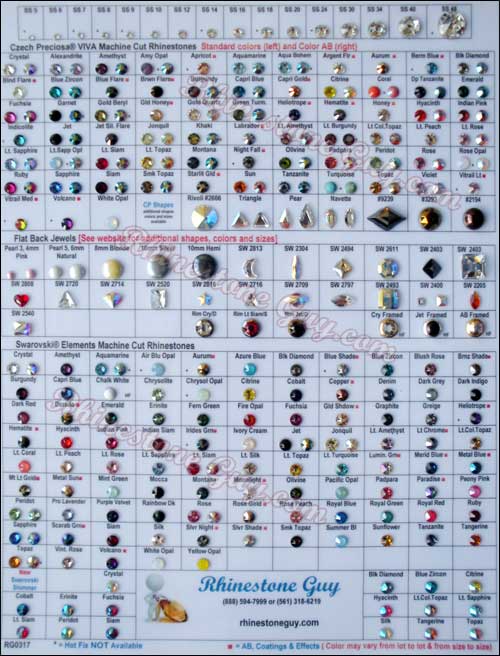 Rhinestone Guy Premium Sample Card
This card sample card has all Rhinestone Guy Premium All Purpose rhinestone colors both standard and AB, and sizes in actual rhinestones that we carry. In addition it has our full line of nail heads, pyramids, convex domes and pyramids and pearls [hot fix or glue on] including our latest holographic spots (amazing colors). In addition it has the complete line of RG2 Rhinestones.
NOTE: The sample card is updated periodically as to rhinestones carried in stock and various nailheads or jewels get exchanged. You may receive a card that is a bit different then represented in the photo but it would be very similar.

The cost of this card includes shipping (for 1 card) .............................................................................$ 15.00
Bundle with Swarovski, Czech Sample Card and SAVE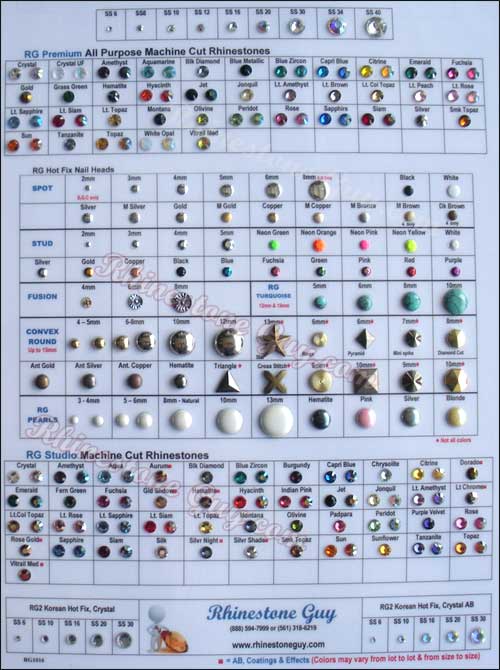 Rhinestone Sizes
Rhinestone Sizes: Rhinestones are measured in 'SS' (Stone Size) sizes, and jewels are measured in millimeter. All current rulers have an inch side and a Centimeter (CM) side on them. Each centimeter (CM) is divided into 10 units, and each unit is a millimeter (MM).  Below is a table of sizes in MM.   Any pictures of rhinestone sizes shown on this site must be considered as relative, for your computer set-up may change the size of how each graphic is displayed.   Monitor size and settings will vary from station to station. There is no way we can predict how your monitor will display these images.

Sizes show above are relative, not actual. A 30SS rhinestone has a diameter about that of a pencil eraser.  See below for detail chart.
Handy Metric Comparisons: 25.5 MM = 1 Inch,  18 MM = 3/4 Inch,   12.5 MM = 1/2 Inch,  9MM = 3/8", 6.5 MM = 1/4", 5 MM = 7/32",   3 MM = 1/8"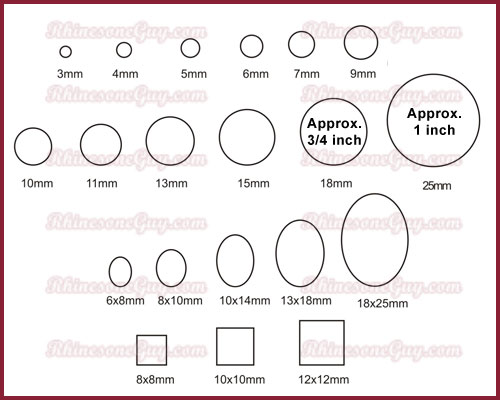 Rhinestone Size Chart - Millimeter to Stone Size Conversion - See below for detail chart.
The chart below contains conversions for all type of stones. Rhinestones DO NOT come in all of these sizes!
This is for reference only and is NOT to scale. Please look at a ruler and compare.
Please note: Smaller Point Back Rhinestones are measured in PP (Pearl Plate),
Flat Back and Larger Point Back Rhinestones are measured in SS (Stone Size)