Swarovski Drops
Article 6000 - (Pendants)
Swarovski Art. 6000 is table cut, lead crystal, tear drop shaped multi-faceted pendant.
Swarovski Crystals tear drops can be sewn onto costumes. They can be used as hanging accents, like edges of scarves, table clothes, and more.
You can create unbelievable fringe effects for gowns, ballroom and ice skating dresses. They can also be used for fine jewelry for earrings and necklaces, bracelets, etc...
Brand: Swarovski, Austria
Name: Drops (Pendants)
Article #: 6000
We carry these drops in Crystal and Crystal AB. Some colors are available in stock, limited quantities and in selected colors as shown below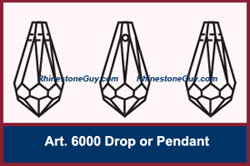 Swarovski Drops are sold by the Dozen. (The large 22 x 11mm is also sold by the piece)
1 Dozen = 12 pieces
Color

Crystal

Crystal AB

Aqua

Light Siam

Rose

Sapphire AB

Siam
11 x 5 mm
$6.49
$7.29
N/A
$6.89
$6.89
$9.99
N/A
13 x 6 mm
$7.29
$8.59
$8.39
N/A
N/A
N/A
$10.99
15 x 7 mm
$8.99
$9.49
N/A
N/A
N/A
N/A
$14.66
22 x 11 mm
$21.89
$24.29
N/A
N/A
N/A
N/A
N/A
22 x 11

each

$2.09
$2.39
N/A
N/A
N/A
N/A
N/A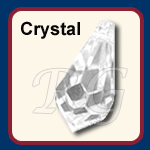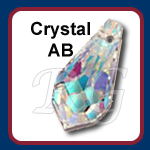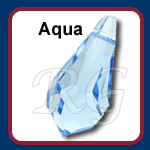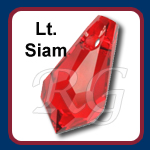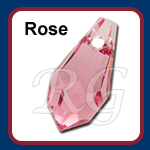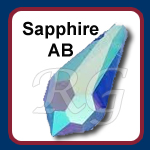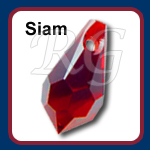 Czech Preciosa Drops - Clearance
The Czech Preciosa drops are just as good and as beautiful as the Swarovski.
These drops are approx. 3/4 of an inch (18mm) tall and 3/8 of an inch(9mm) wide.
Other Swarovski Pendants
(click to visit)
Find your Swarovski crystals at Rhinestone Guy
Stand out from the crowd. Swarovski inspires the world of fashion, art and design with its leading innovations, design and trends' expertise. Swarovski rhinestones and crystal components are made of ""advanced crystal" and are lead free*, compliant with international standards.
*Crystal Glass and all other materials containing 0.0009% lead or less