Swarovski Pointed Back Sew On
Art. 3441 - Fancy Stone in Setting (mounted)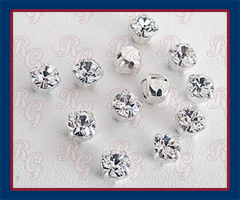 Swarovski round Sew on stone in setting is a gorgeous and popular. Sewing mounted fancy stones create an expensive look, class, style and sparkle.
The sew on stone is made with pointed back (chatons) stones, fancy stones, in a silver carrier.
Strung as a necklace or bracelet it is just amazing. Many wedding dresses and wedding belts feature these beautiful mounted stones throughout mixing various shapes for an exquisite look. The mounted stone is a Swarovski Fancy Stone Art. 1028 or 1088, depending on availability.
We stock these in Crystal and Crystal AB in sizes 16ss through 48ss as shown below.
Select colors and colors AB are available by special order and minimum purchases will apply.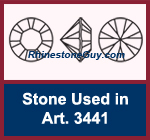 Brand: Swarovski, Austria
Stone Shape: Round chaton
Article #: 3441

Swarovski Round Stones in settings are sold with minimum quantities as follows, select appropriate tab:
16ss and 20ss stones - 1/2 gross
30ss to 48ss Crystal and Crystal AB - minimum purchase 1 dozen
Special Order - 16ss and 20ss - 10 gross; 30ss - 2.5 gross; 34ss and 40ss - 1 Gross
Colors, Effect colors and AB colors are available by special order with minimum quantities requires, lead time 8 to 10 weeks.
Click on

PRICE TABS
Swarovski 3441 Round Dozen Prices
1 Dozen = 12 pieces
CP = Czech Preciosa
Crystal
$6.99
Sale $4.99
N/A
Sale $10.99
Crystal AB
$7.99
Sale $5.89
N/A
N/A
Swarovski 3441 1/2 Round Gross Prices
1/2 Gross= 72 pieces;
Larger sizes on
SALE

see Dozen Tab
Crystal
$14.29
$17.99
$35.69
Crystal AB
$17.89
$21.69
$44.39
Swarovski 3441 Round Gross Prices
1 Gross = 144 pieces ; Larger sizes on
SALE!

See Dozen Tab!
Crystal
$24.89
$31.39
$68.39
Crystal AB
$30.99
$37.69
$78.99
Swarovski 3441 Round Bulk Prices
Larger size on SALE, see Dozen Prices.
Size

16ss

-10 Gross

20ss

-10 Gross

30ss

-2 Gross
Crystal
$204.99
$259.19
$112.79
Crystal AB
$255.99
$310.86
$130.59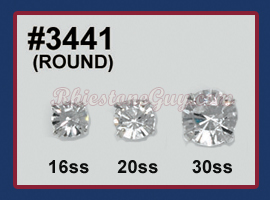 Other Swarovski Mounted Fancy Stones
(click on image to visit)