Swarovski Rhinestones
Color Chart
Please do not rely on your computer to show accurate colors ...rhinestones do not photograph well! Order our Sample Card with all colors and sizes in actual rhinestones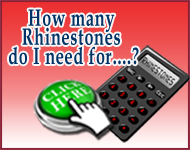 Below Swarovski Rhinestone colors that we carry in our Stock.
A color you need is not shown? If you are searching for a color you do NOT see, call us, we can try to find it for you. We will need lead time and minimum quantities will apply. We still have some discontinued colors in stock - check our Clearance section.
NOTE: NOT ALL COLORS ARE AVAILABLE or PRODUCED IN ALL SIZES, THIS IS PARTICULARLY IN THE SMALLER SIZE RHINESTONES, HOT FIX RHINESTONES, COLOR AB AND SPECIAL EFFECTS COLORS. THE COLORS ARE ORGANIZED IN COLOR GROUPS. On the right side there is an A-Z list if you want to get to a particular color quickly. There are also color
Color Disclaimer: Please do NOT rely on your computer monitor to represent the colors as depending on your monitor, video card and monitor's resolution colors may vary. We did our best to represent the colors. We highly recommend that your purchase a Sample Card for accurate colors.
Certain Swarovski Colors are no longer produced. We have limited quantities in limited sizes, either Flat Back or Hot Fix.
Below is an A-Z list of the rhinestone colors we currently stock. Click on the link to get to the row and see the color and the Color AB. Effect Stones are at the bottom














---














































































































Special Production 20ss Only
Following are Color Description to give you a better sense for the colors.
Organized A-Z
Crystal Clear - Diamond-Like Price under - Crystal Column
Crystal AB -The Standard of the AB stones, throws brilliant red, green, blue, purple. Very little yellow. Very bright stone, even in dim light Crystal AB Pricing
Amethyst -True amethyst color ...purple with hints of red 
Aqua Aquamarine - light blue/very little green, like the gem Aquamarine
Aurum - Metallic gold
Bermuda Blue -Capri Blue with an undertone of lighter blue, an effect stone
Black Diamond -Smoke Glass gray, brilliant 
Blue Shade - An effect stone, pale blue with silver mix.
Blue Zircon -Deep Aqua, bright, great for turquoise/teal colors
Blush Rose - A beautiful soft rosy color.
Bronze Shade - A brown/mocca effect stone with silver tones
Burgundy -Deep Purplish/Red like the burgundy wine
Capri Blue -Rich and bright blue
Chrysolite - Lt. Green without yellow 
Citrine -  Intense and bright Yellow, lemon yellow
Cobalt -Very dark royal blue
Copper -  Copper Color, transparent, an effect stone
Dark Indigo - A deep blue, Ink blue.
Denim - pretty Jeans Blue
Dorado -Effect Color - Dark Bronze/Gold color - metallic /opaque
Emerald -Rich emerald green 
Erinite -  Grayed Green, no yellow 
Fern Green -Bright Green, Grass Green
Fire Opal -  Flame color, changes from red to yellow, depending upon how light hits stone. Appears to be on fire. 
Fuchsia -Intense rose/hot pink 
Golden Shadow -An effect stone, crystal with hints of gold
Greige - A light gray/mauve
Heliotrope -  Effect color purples, red, blue, but mainly a beautiful purple
Hematite -  Effect color, silver-gray to blackish surface, metallic, looks just like the semiprecious stone, Hematite- Shines Great over Black
Hyacinth - Brilliant red with touch of yellow, more orange than Light Siam 
Indian Pink - Hot pink without the purple tones
Indian siam - A true red. A red color between Light Siam and Siam.
Iridescent Green - An effect stone with metallic blue-green dual tone with hints of light colorado topaz.
Jet - Opaque / solid Black, many time un foiled.
Jet Nut -  Brown and Black - an effect color
Jonquil -Very pale yellow with a tinge of green
Light Amethyst -Lighter version of Amethyst, lavender with hints of red
Light Chrome - A metallic pale silver, effect rhinestone. 
Light Colorado Topaz -Paler gold than Topaz, less yellow/orange Beige. 
Light Peach -Pale Peach color
Light Rose - Paler version of Rose
Light Sapphire -Much less intense than Sapphire 
Light Siam - Brilliant bright red, Fire Engine Red
Light Silk - A nude color
Light Topaz  -Yellow topaz color
Light Turquoise - a brilliant turquoise, lighter than Blue Zircon
Lilac Shadow - An effect stone with a beautiful mix of Amethyst purple, lilac with hints of gold.
Meridian Blue - EFFECT Stone, deep Caribbean Blue changing to ocean green as angle of light changes...not an AB coating. Effect Color Warning: great variation from lot to lot.!
Metallic Blue - Shiny Navy blue and lighter blue.
Metallic Sunshine - An effect rhinestone with gold and sunflower colors.
Mocca -Transparent Brown, beautiful color for browns
Montana Blue -Deep blue good when Navy Blue 
Moonlight - An effect stone a bit lighter than silver shade, tinge of yellow, very bright.
Olivine -  Olive Green
Pacific Opal - A mint green with soft blues, opal tones.
Padparadscha -  Salmon color, a nice light coral
Peridot -Medium green/yellow, excellent with greens and limes 
Pro Lavender -Light Lavender
Purple Velvet  - Strong and Dark purple
Rose - True rose color
Rose Gold - a gold effect stone, metallic with copper/rose tones.
Rose Peach - A coral color with pink and more orange. Paler than Padparadscha.
Ruby -Deep/Dark fuchsia (not RED like a ruby stone)
Sapphire -Rich royal blue ... sapphire blue
Scarabaeus Green - an effect stone features a lustry green, purple & blue 
Siam - Deep Red, or deep Ruby color 
Silk -Lighter than Lt. Peach, but very similar, less intense, good for nude color
Silver Night - Effect color… Dark Gray, not a coating
Silver Shade - Effect color… Silverish bright Crystal, not a coating, a hint of silver
Smoke Topaz - Deep Topaz color, less yellow than Topaz, Bronze color 
Sun -  Very golden Orange (Like the setting Sun) 
Sunflower - Deep yellow like sunflower (not bright yellow)
Tangerine - A shade darker than Sun. On the orange side. 
Tanzanite - Light purple, more bluish and less red than Light Amethyst 
Topaz - Golden brown yellow, good with golds and browns
Vintage Rose - A pale rose with touches of gray tone - vintage soft look. 
Vitrail Light -  Pinks with silver effect with greens and some blues (Effect color) 
Vitrail Medium - Great colors of Fuchsia/Green ...Beautiful Effect Stone 
Volcano -  Effect color, intense purple, red, blue, green. Changes color as light hits it. 
White Opal -  Translucent with Yellow Cast (Pearly) - similar to an opal.  Great for Off White.