Swarovski Cosmic Baguette
Art. 2555 - Flat Back*
* Hot Fix, Crystal AB
Swarovski Cosmic Baguette is an unusually faceted elongated rectangle. The multitude of odds facets creates an amazing sparkle. They are flat back and silver foiled for extra reflection. Rhinestone shapes are great for added design, style and sparkle.
We carry the cosmic shape in 3 popular sizes in Crystal, Crystal AB (hot fix), Jet black and Golden Shadow.
They are sold by the Dozen (12 pieces) or by the Box, in Bulk (discounted).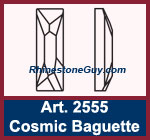 Brand: Swarovski, Austria
Name: Cosmic Baguette
Article #: 2555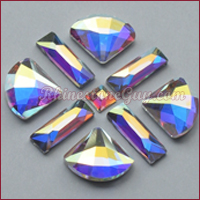 Swarovski Cosmic Baguettes are sold by the Dozen or by the Box (Bulk).
Crystal AB only available in Hot Fix Format, you can still glue them.
1 Dozen = 12 pieces, GR = Gross, HF - Hot Fix
Size

8x2 mm

12x4 mm

15x5 mm

Bulk/Box
8x2mm-20 Dz
12x4mm-1 Gross
15x5mm-6 Dz
Crystal
$4.49
$8.19
$13.39
Crystal
$73.39
$80.79
$66.09
Crystal AB

-HF

$5.99
$10.99
$18.09
Crystal AB

-HF

$99.29
$109.29
$89.69
Jet UF
$4.49
$8.19
$13.39
Jet UF
$73.39
$80.79
$66.09
Golden Shadow
$4.99
$9.19
$15.09
Golden Shadow
$82.79
$91.19
$74.69

Other Swarovski Shapes (click to visit)
Find your Swarovski crystals at Rhinestone Guy
Stand out from the crowd. Swarovski inspires the world of fashion, art and design with its leading innovations, design and trends' expertise. Swarovski rhinestones and crystal components are made of ""advanced crystal" and are lead free*, compliant with international standards.
*Crystal Glass and all other materials containing 0.0009% lead or less