Swarovski Flat Back Rhinestones - Art 2058 & 2088 Complete Price List
The following is a complete price listing of our Swarovski
2058
Xilion Rose Enhanced and
2088
Xirius flat back rhinestones.
Swarovski 2088i-Rimmed stone features a rhinestone with a special metallic coating around the bottom edge creating the illusion of a "rim" around the stone. This "rim" is part of the stone (not an actual rim). They are availalbe in 16ss, 20ss Flat Backs and 34ss Hot Fix (You can still glue)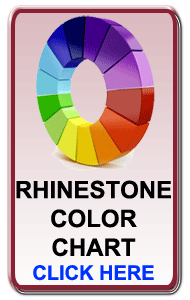 If you are unfamiliar with rhinestone sizes or would like to see better sizing information you may see pricing and size representation under the individual rhinestone sizes.
For best pricing sizes 5ss to 30ss, you should consider purchasing bulk packages. These are factory sealed packages and are discounted. It means same size & color:
3ss to 20ss - 10 Gross packages
30ss - 2 Gross Package (2088)
Rhinestones 34ss and up are priced based on packages as noted.
If you need for example 12 Gross of 20ss rhinestones, 10 will be at the Bulk Price and the 2 will be at the Gross price.
Swarovski 2088 Xirius flat back rhinestones are the latest production of Swarovski Crystals with Style 2058 in smaller size rhinestones. Most current stock is style 2088, however, some AB colors that are NO LONGER made may be 2058 or even 2028 style. Swarovski does not produce all of the AB and Effect colors in all of the sizes and rhinestone styles. If you have a need for specific style ask before you purchase and have a back up choice.
Swarovski rhinestones are sold as follows:
3ss and 4ss - minimum purchase 10 gross, see BULK
5ss to 16ss - minimum purchase 1 gross
20ss to 30ss - minimum purchase 1/2 gross , Except Rimmed Rhinestones
34ss

**

to 48ss - minimum purchase 1 Dozen,

40 & 48ss - colors limited

***

40SS COLORS, various rhinestone styles- SEE AVAILABILITY LIST

***

48SS COLORS - SEE AVAILABILITY LIST

**

Except HF Rimmed Rhinestones

UF

= UNFOILED
NEW RG Exclusive
Swarovski 2088 Electric Jet, SS16, SS20 & SS30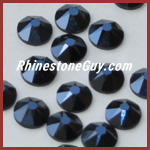 Swarovski 2088i Rimmed Rhinestones in Crystal, Light Siam and Jet with Light Chrome or Dorado "rim" (metallic coating). Prices below!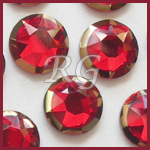 Looking for Actual Rim, See Swarovski 2078 Framed stones
Click on

PRICE TABS
GROSS

PRICE

-

(144 pieces / gross)

Swarovski 2058 & 2088, 2088i Gross Prices

1 Gross = 144 rhinestones; Measured by weight, Price Per Gross
If you are looking for SS3 (1.4mm) or SS4 (1.6mm), they are only available in Factory Package, see Bulk

*** 48SS very limited 2088 color selection. See specific SS48 page.

2058

5SS(1.8mm)

6SS(2mm)

7SS(2.2mm)

8SS(2.3mm)

9SS(2.6mm)

10SS(2.8mm)

2088

Foiled

12SS(3.1mm)

14SS(3.5mm)

16SS(4mm)

18SS(4.4mm)

20SS(4.7mm)

24SS(5.4mm)

30SS(6.4mm)

34SS(7.1mm)

40SS(8.6mm)

48SS(11mm)

2088-Unfoiled

16SS(4mm)

20SS(4.7mm)

30SS(6.4mm)

2088i-Rimmed

16SS(4mm)

20SS(4.7mm)

34SS (

7.1mm)

Crystal
$4.39
$4.39
$4.39
$4.39
$4.39
$4.39
Crystal
$5.09
$5.79
$6.79
$7.89
$9.19
$12.49
$19.49
$19.79
$33.09
$43.89-8 Dz
Crystal
N/A
N/A
N/A
Crystal
$9.29
$12.79
$33.39 hot fix

Crystal AB
$6.19
$6.19
$6.19
$6.19
$6.19
$6.19
Crystal AB
$6.99
$7.99
$9.29
$10.79
$12.69
$16.99
$26.99
$27.29
$45.59
$60.49-8 Dz

Crystal AB-UF

$8.09
$11.09
$23.19
Crystal AB
N/A
N/A
N/A

Std Color
$5.19
N/A
$5.19
N/A
$5.19
N/A
Std Color
$6.09
N/A
$8.09
N/A
$11.09
N/A
$23.19
$23.49
$38.09***
$52.19-8 Dz
Std Color
N/A
N/A
N/A
2088 i - JET
$8.69
$11.89
$35.69 hot fix

Crystal Effects
$6.19
N/A
$6.19
N/A
$6.19
N/A
Crystal Effects
$6.99
N/A
$9.29
N/A
$12.69
N/A
$26.99
$27.29
$45.59***
$60.49-8 dz
Crystal Effects
N/A
N/A
N/A

2088i-Lt Siam

$9.99
$13.59
$35.69 hot fix

Color AB
$6.59
N/A
$6.59
N/A
$6.59
N/A
Color AB-2088/58
$7.49
N/A
$9.79
N/A
$13.29
N/A
$28.19
$28.49
$47.79
$64.69-8 dz
1/2 GROSS

PRICE

-

(72 pieces = 1/2 gross)

Swarovski 2058 & 2088,2088i 1/2 Gross Prices

1/2 Gross = 72 rhinestones; Measured by weight

We do not sell smaller size stones by 1/2 Gross quantities.

2088

20SS(4.7mm)

24SS(5.3mm)

30SS(6.4mm)

34SS(7.1mm)

40SS(8.6mm)

2088-Unfoiled

20SS(4.7mm)

30SS(6.4mm)

2088i-Rimmed

20SS(4.7mm)

34SS (

7.1mm)

Crystal
$5.39
$7.39
$11.29
$13.29
$22.09
Crystal-UF
N/A
N/A
Crystal
$7.69
$26.09 hot fix

Crystal AB
$7.59
$9.99
$15.49
$18.19
$29.19

Crystal AB-UF

$6.49
$13.59
Crystal AB
N/A
N/A

COLOR
$6.49
N/A
$13.59
$15.69
$25.09***
Std Color
N/A
N/A
Jet
$7.19
$27.99 hot fix

Crystal Effects
$7.59
N/A
$15.49
$18.19
$29.19***
Crystal Effects
N/A
N/A

2088i-Lt Siam

$8.19
$27.99 hot fix

Color AB
$8.09
N/A
$16.69
$19.39
$30.59***
DOZEN

PRICE

-

(12 pieces = 1 Dozen)

Swarovski 2058 and 2088, Dozen Prices

1 DOZEN = 12 rhinestones;

Colors are limited in both sizes.

48ss Color Rhinestones by dozen are article 2000, 40ss is 2058.

2088/2058

34SS(7.1mm)

40SS(8.6mm)

48SS(11mm)

Crystal
$3.89
$4.49
$7.39

Crystal AB
$5.09
$6.19
$10.09

Colors

DZ

$4.59
$5.09
$8.79

Effects,

DZ

$5.09
$6.19
$10.09

Colors AB

DZ

$5.49
$6.59
$10.79
WHOLESALE -

BULK PRICE

- Save $

- (

By the package

)

Swarovski 2058 & 2088, 2088i Bulk Prices

5ss to 20ss - 10 Gross Package (1,440 rhinestones)

30ss - 2088 -- 2 Gross Package (288 rhinestones)

30ss - 2058 -- 2.5 Gross Package (360 rhinestones)

--limited colors as they switch to the new 2088 style; or are no longer produced.

Factory Sealed Packages. Best price per gross.

2058

3SS-10 Gross

4SS-10 Gross

5SS-10 Gross

6SS-10 Gross

7SS-10 Gross

8SS-10 Gross

9SS-10 Gross

10SS-10 Gross

2088

12SS-10 Gross

14SS-10 Gross

16SS-10 Gross

18SS-10 Gross

20SS-10 Gross

24SS-10 Gross

30ss-2 Gross

34SS-1 Gross

40SS-1 Gross

48SS-8 Dozen

2088-Unfoiled

16SS-10 Gross

20SS-10 Gross

30SS-2 Gross

2088i-Rimmed

16SS-10 Gross

20SS-10 Gross

34SS

-1 Gross

Crystal
$34.09
$32.69
$32.39
$32.39
$32.39
$32.39
$32.39
$32.39
Crystal
$37.39
$43.29
$50.49
$58.19
$68.79
$92.99
$29.19
$19.79
$33.09
$43.89
Crystal-UF
N/A
N/A
N/A
Crystal
$70.29
$97.19
$33.39 hot fix

Crystal AB
$48.49
$46.29
$45.49
$45.49
$45.49
$45.49
$45.49
$45.49
Crystal AB
$51.59
$59.69
$69.59
$81.09
$94.89
$126.39
$40.29
$27.29
$45.59
$60.49

Crystal AB-UF

$62.69
$81.89
$34.69
Crystal AB
N/A
N/A
N/A

Color
N/A
N/A
$38.59
N/A
$38.59
N/A
$38.59
N/A
Color
$44.49
N/A
$62.69
N/A
$81.89
N/A
$34.69
$23.49
$38.09***
52.19***
Std Color
N/A
N/A
N/A
JET
$66.39
$90.59
$35.69 hot fix

Crystal Effects
N/A
N/A
$45.49
N/A
$45.49
N/A
$45.49
N/A
Crystal Effects
$51.59
N/A
$69.59
N/A
$94.89
N/A
$40.29
$27.29
$45.59***
$60.49***
Crystal Effects
N/A
N/A
N/A

2088i-Lt Siam

$76.19
$103.99
$35.69 hot fix

Color AB
N/A
N/A
$48.29
N/A
$48.29
N/A
$48.29
N/A
Color AB
$55.09
N/A
$74.49
N/A
$101.49
N/A
$43.09
$29.09
$48.79***
$64.69***
---
or, Shop by Size