Swarovski Sew On Rhinestone
Art. 3288 (former 3204)
Swarovski 3288 sew on rhinestones are larger faceted flat back rhinestones with 2 holes drilled on each side for sewing. They feature foil on the back of the stone for extra reflection. Sewing jewels are great for added style and sparkle.
We stock these stones in three sizes 8mm, 10mm and 12mm in Crystal and Crystal AB.
There are selected colors available on the market, however, these are available by special order and with minimum quantities, see under BULK prices. The latest style in sew on rhinestones is the 3288 Xirius.
Swarovski round sew on rhinestones are sold by the Dozen or in bulk.
[we do not sell individual pieces]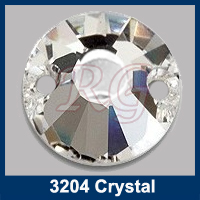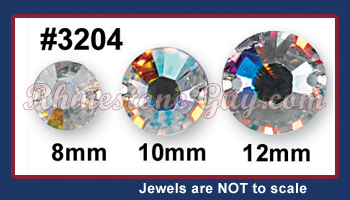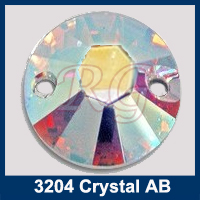 Prices
DOZEN

PRICE

-

(12 Pieces / Dozen)

BULK

PRICE

-

(by the package as noted)

Swarovski Rivoli 3204 /3288 Sew On:

1 Dozen = 12 pieces
1 Gross = 144 pieces
6 Dozen = 72 pieces.


10mm comes either in 6 or 8 (96 pieces) box purchase discount based on availaiblity


S/O - special order, minimum purchase quantities apply.

Colors are sold by Special Order - S/O:

Available standard colors: Black Diamond, Blush Rose, Denim, Emerald, Fuchsia, Graphite, Jet, Light Colorado Topaz, Light Peach, Light Siam, Smokey Mauve, Tangerine, Yellow Opal.

Available Effect colors: Astral Pink, Blue Shade, Golden Shadow, Iridescent Green, Hematite, Lilac Shadow, Luminous Green, Moonlight, Silver Night, Silver Shade, Light Chrome, Metal. Sunshine, Paradise Shine, Scrabeous Green.

By Dozen

8mm

10mm

12mm

Bulk

8mm

-1 Gross

10mm

-8 Dozen

12mm

-6 Dozen

Crystal
$5.49
$7.29
$10.29
Crystal
$54.09
$47.89
$51.09

Crystal AB
$7.69
$10.19
$14.49
Crystal AB
$75.59
$66.89
$71.39

Standard Colors
S/O
S/O
S/O
Standard Colors
s/o $64.79
s/o $57.49
s/o $61.19

Effect Colors
S/O
S/O
S/O
Effect Colors
s/o $75.59
s/o $66.89
s/o $71.39
---
Other Swarovski Sew On Jewels
(click to visit)
Find your Swarovski crystals at Rhinestone Guy
Stand out from the crowd. Swarovski inspires the world of fashion, art and design with its leading innovations, design and trends' expertise. Swarovski rhinestones and crystal components are made of ""advanced crystal" and are lead free*, compliant with international standards.
*Crystal Glass and all other materials containing 0.009% lead or less