RG Hot Fix Rhinestuds
Hot Fix Rhinestuds are also known as Studs or English Cut nailheads. Metal embellishments add lot of sparkle at an excellent prices. They can be mixed with rhinestones to create some great designs.
Available in a variety of colors and sizes. We got you covered from silver and golds, to assortment of colors and even neon colors. Buy in small quantities or wholesale.
Rhinestuds are metallic and faceted similar to a rhinestone. The facets catch the light which makes them shine. They are available in a variety of colors for every project.
These are also excellent for use in guys' project or for those who do not want rhinestones but want a little bling and sparkle.
For sample of colors available consider RG Premium Sample Card.

RG Hot Fix Rhinestuds are sold as follows:

Packages only / no partial gross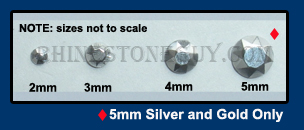 2mm to 4mm, All Colors
5mm - Silver and Gold
DEEP DISCOUNTS ARE AVAILABE FOR LARGE VOLUME BUYERS -
SEE WHOLESALE PRICES TAB BELOW















Select the tabs below for various quantities and pricing options:
RG Hot Fix Rhinestuds /English Cut Nailheads
Sold in 10 Gross packages. Approx. 1,440 per package measured by weight
1 Gross = 144 nailheads; Measured by weight
Size

2mm-10 Gr Min

3mm-10 Gr Min

4mm-10 Gr Min

5mm-10 Gr Min
10 Gross
$3.90
$5.99
$10.00
$12.00
RG Hot Fix Rhinestuds Wholesale
We deep discount our hot fix nailheads line for those with larger production needs.
Our hot fix nailhead prices are built in tiers to help you build your business. We want to be your partner. Please call us to discuss.
We start discounting at 50 gross, SAME SIZE/SAME COLOR. Only items meeting the 50 Gross minimum will be discounted. Items purchased in quantities of less than 50 gross will be priced at prices above.
When you purchase with deep discounts, even 1 item you are NOT eligible for:
Any promotions
Free Shipping - we charge you what it cost us to ship to you and large orders require signature and insurance.
50 Gross packages (7200) or 100 Gross Packages (14,400)
Measured by Weight
50 Gross
$7.00
$7.99
$19.50
$34.50
100 Gross
$10.00
$15.00
$30.00
$49.00